10,000+ Workplace Resolutions Submitted to HLW Minister Sakaguchi
Demanding Withdrawal of Government Bill to Reform Pension System of 'Benefit Reduction & Burden Increase without Radical Reform'
30 April 2004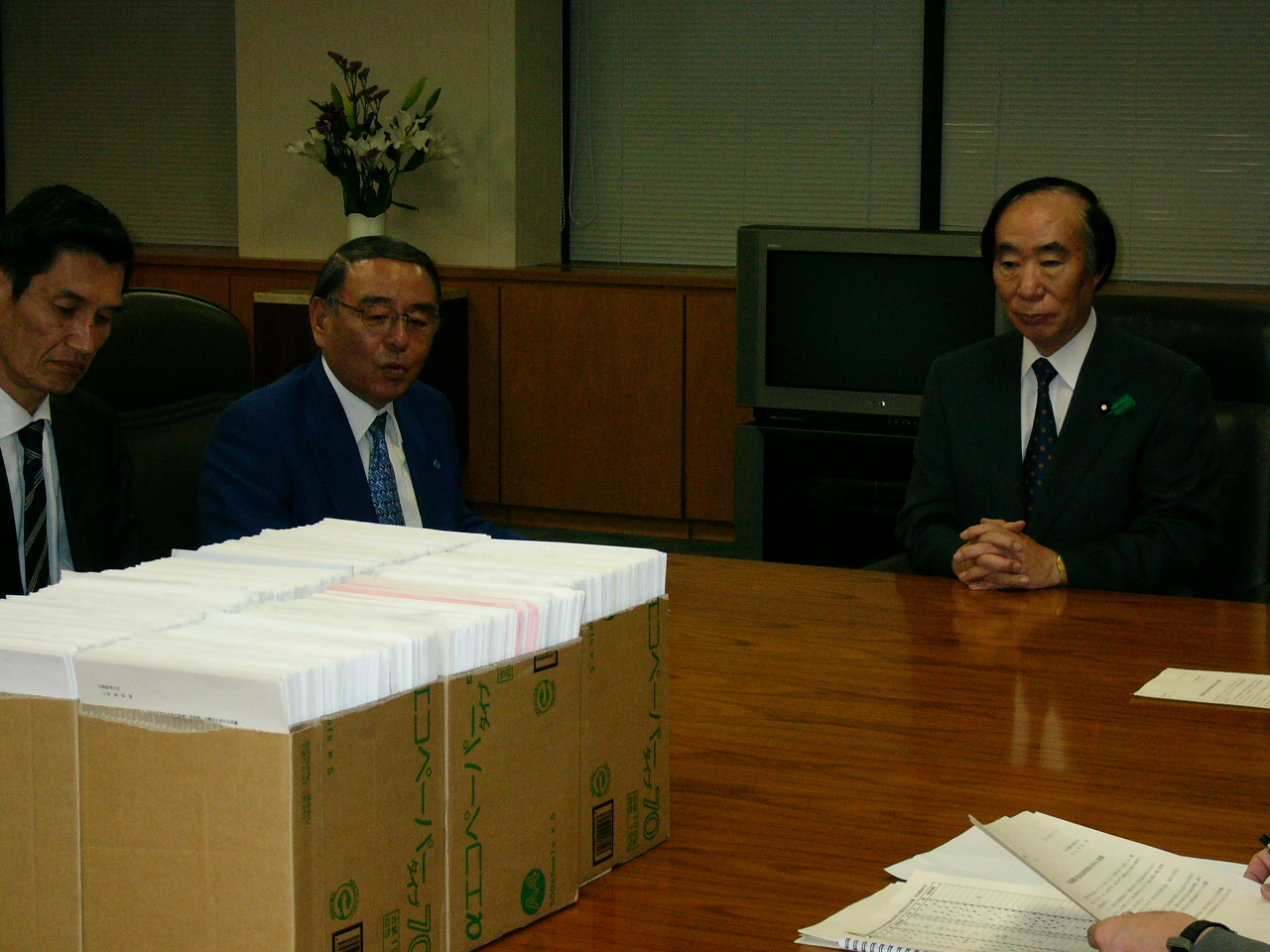 Photo: General Secretary Kusano (front and left) hands over workplace resolutions in order to conduct demands.
On April 26, RENGO presented Health, Labour and Welfare Minister Sakaguchi with 11,853 resolutions sent in from workplaces and organizations across the nation seeking the "Withdrawal of Pension System 'Benefit Reduction and Burden Increase without Radical Reform'." RENGO strongly pressed its demand that the Minister realize "what is of vital necessity right now is to restore public confidence in the pension system, to implement fundamental reform in order to fix the hollowing out of the system, and also to carry out a thorough debate on the national level."
In response, Minister Sakaguchi countered by saying "we would like to see that the government bill is passed in the current Diet session. I believe that I fully understand RENGO's idea and it is our plan to create an opportunity to talk about it in the future. It is important to establish a forum where labor and management can each express their own opinions. It is crucial that we think of pension system reform along with tax system reform in fiscal year 2007 in such ways as the relation between taxes and premiums, social conditions, ways in which burdens and benefits should best function and so on, within the larger general context of social security."
In conclusion, RENGO General Secretary Kusano offered his appeal by telling the Minister that "we want the ruling and opposition parties to exhaustively discuss pension system reform as well as tax system reform for the 2007 fiscal year."