RENGO held Symposium for "Sustaining Quality Public Services"
-Discussions about "Work Style Reform" in public services, promoting female participation, and Autonomous Labour-Employer Relations-
10 April 2018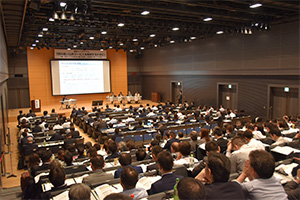 On April 4th, RENGO held Symposium for "Sustaining Quality Public Services –"Work Style Reform" in public services and the role of trade unions –", with 340 audiences including members of affiliated organizations and local RENGOs, government officials, Diet members of RENGO Forum, and others.
RENGO have held this series of symposium since 2015, appealing the need of restoration of basic labour rights for public service employees for promoting the democratic, transparent reform of national public employees' system.This year, we focused on deepening the understanding the need of "Work Style Reform" in public services and female participation, the role of trade unions for the realization, and the way of autonomous labour-employer relations for quality public services.
In the beginning, Mr. Minao Noda, the Vice President of RENGO (and the chairman of RENGO policy committee) addressed representing the host that "planning of "Work Style Reform" for all the workers should be based on labour management consultation. In public services, as well as private sectors, it is needed for quality public services to build a framework for responding to issues both labour and management responsibly under the autonomous labour-employer relations with ensured workers' rights".
In continuation, Ms. Akiko Gono, the ILO Governing Body member, made solidarity greetings. "The idea that the basic labour rights for public service employees should be ensured with few exceptions is basic and generally, even internationally accepted. Asian countries have a long way to go in this regard, and we are in a disgraceful situation that Japan still has been restricting the rights, while Japan is expected to play a leading role in setting an example for the region". She also noted that "we need to make progress by advocating a measure to restore the rights, even though Japanese Government keeps making excuses why they restrict the rights. We will continue to work together by taking advantage of opportunities such as today's symposium".
As a keynote presentation, Mr. Toshio Morimoto, President of CareerShift Corporation, gave a lecture on the significance of "Work Style Reform" of public service employees including the effect on the quality of public services based on his experience in Saga Prefectural Office which he promoted Telework.
Also, as an issue raising presentation, Ms. Karen Curtis, Deputy Director of International Labour Standards Department, ILO, introduced ILO conventions concerning the basic labour rights of public service employees, the significance of recommendation from Committee on Freedom of Association, and the progress of public service reform and its effect on basic labour rights and other challenges in other countries have.
After presentations, panel discussion was held with 4 participants; Ms. Reina Aoki from the National Council of Japanese Firefighters and Ambulance Workers, Ms. Satoko Tamazawa from Japan Teachers Union, Iwate Prefecture, Mr. Hiroshi Inoue from the Japan Customs Personnel Labour Union, and Ms. Karen Curtis, with Mr. Yasunobu Aihara, the General Secretary of RENGO as a moderator.In the discussion, they individually reported their challenges facing in their own workplace. Based on their reports, discussion about the significance of female participation in public services, and the way of autonomous labour-employer relations for the quality public services was made, accompanied by opinion exchanges with the audiences.
General Secretary Mr. Aihara concluded the symposium by referring RENGO's recent action towards the forthcoming International Labour Conference and the encouragement to introduce legislation by Diet members related to the establishment of autonomous labour-employer relations system. He stated, "We successfully reached a common understanding. We recognize that international community has been directing a harsh look to Japan on this issue. Workplaces in public service sector are facing difficulties due to the inability of exercise of the basic labour rights. The establishment of such relations and restoration of the rights are significantly important not only for protecting individual workers but also for developing organizational governance which includes management of respective workplaces and daily operations." He also mentioned that "those challenges are not the issue which only organizations in public service sector facing with. It is important for us to share it throughout our organization and express our views at different situations."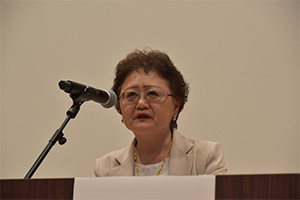 Ms. Akiko Gono, the ILO Governing Body Member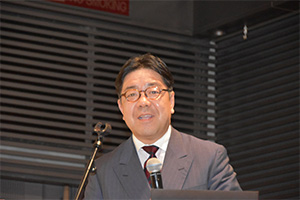 Mr. Toshio Morimoto, the President of CareerShift Corporation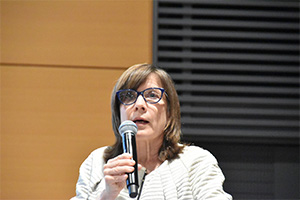 Ms. Karen Curtis, the Deputy Director of International Labour Standards Department, ILO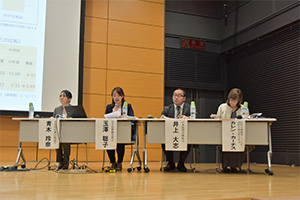 Panel Discussion Participants