Make This the Year of Recovery
New Year Banquet Held
14 January 2004
On January 5th, RENGO held its 2004 New Year banquet at a hotel in Tokyo. In a speech RENGO President Sasamori showed determination by saying, "to make this a year of recovery, RENGO will combine its power with government, labor and management to create a Japan where people can live happily and securely and bring about the recovery and rejuvenation of the RENGO labor movement." Approximately 1,000 attendees were present including: Health, Labour and Welfare Minister Sakaguchi, Nippon Keidanren (Japan Business Federation) Vice Chairman Nishimuro, Democratic Party of Japan President Kan, Social Democratic Party leader Fukushima, Liberal Democratic Party General Council Chairman Horiuchi, New Komeito Party Chief Representative Kanzaki, and many other representatives from labor, politics, and the business world.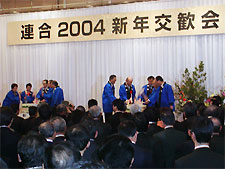 Photo: RENGO officials and prominent leaders from politics and business perform Kagamiwari (breaking of a barrel of ceremonial sake.)
(January 5, Tokyo)
On behalf of organizers, President Sasamori proposed six S's and four K's and stated that he will employ all his might to make this year we resolve them. S and K refer to the initials of President Kiyoshi Sasamori. The six S's stand for "Secure
Livelihoods
[or
S
eikatsu in Japanese]", "Fundamental reform of the
Social
[
S
hakai] Security System", "Roll Back the
Unemployment Rate
[
S
hitsugyo-ritsu]", "Promote the
Spring Struggle
[
S
hunto]", "Restore
Unionization Rates
[
S
oshiki-ritsu]", and "Lay the foundation for a change of Administration at the
House of Councilors
[
S
angiin] election". The four K's stand for "
Public Servant
[
K
omuin] System Reform", "
Educational
[
K
yoiku] Reform", "
Environmental
[
K
ankyo] problems", and "Secure
Employment
[
K
oyo]".
He also said, "let us work to from last year's low point to make this year a turning point in which we bring back a Japan where people can lead happy and safe lives."
The guests also presented speeches. Health, Labour and Welfare Minister Sakaguchi said that "we want RENGO make substantial pronouncements on behalf of every citizen in Japan." Responding to this, Nippon Keidanren (Japan Business Federation) Vice Chairman Nishimuro countered by saying; "To say that RENGO is not with the people is false. What does not have substance is the pension system reform draft that was passed and decided this time. Labor and management released a joint declaration regarding the pension system reform precisely for the sake of our citizens. The tripartite of government, labor and management must cooperate together and consider things from the citizen's perspective." Prime Minister Koizumi's message was then read to the participants.
2004 New Year Appeal
Facing the New Year of 2004, we hope that this will be a year with hope and no worry.

In retrospect, last year was one engulfed in bitter uneasiness over jobs, the future, and security. A strain became apparent due to the law of the jungle/survival of the fittest brought on by market economy supremacism and in the midst of social destabilization/polarization the jobless rate remained high while households without savings exceeded 20% and the number of suicides and crimes rose as frequent large-scale accidents occurred.
Meanwhile, even in the international community, ever since the multiple terrorist attacks on the United States two years ago, it was a year where we were shown the limits of the "logic of force" as military forces in Afghanistan and Iraq and the terrorist responses to them continued.

What is necessary now is to cut the chain of insecurity and return society to one where we can live happily and securely. Citizens look to us to stop any further increases in the number of jobless, create jobs, achieve safe and reliable pension reform, and moreover, to establish social work rules and raise the minimum level of labor conditions.

RENGO will tackle those problems with its entire might at the upcoming 2004 Spring Struggle. We will especially work to strengthen the "abolition of unpaid overtime" and "raise the minimum level of labor conditions in conjunction with part-time workers and others." Also RENGO will organize a struggle to stop wage deflation. Regarding pension system reform which is now approaching a critical stage, RENGO will vigorously promote its activities to seek the establishment of a system-wide safe and reliable social security system.

This year will also be one for the House of Councillors election. Our current politics have been allowed to strengthen the strong and abandon the weak and the lives of our citizens have sunk to the depths of uncertainty. Their anxiety cannot be dispelled without a shift in politics. RENGO will work on election campaigns for a political shift in order to realize policy demands and to bring back a society where people can live without insecurity.

So that 2004 will be a brighter year, let us continue to face our challenges, hand in hand, in the workplaces and at various localities so that RENGO can be a cornerstone for all working people.
January 5, 2004
Japanese Trade Union Confederation