Symposium to Start Forum for NGO-Trade Unions in International Cooperation
Towards Realizing UN Millennium Development Goals
04 August 2004
On July 26, RENGO held a symposium commemorating the establishment of the Forum for NGO-Trade Unions in International Cooperation at the Ikenohata Bunka Center in Tokyo. This Forum marked the first time that NGO and trade unions collaborated in order to contribute to solving the various issues that were raised in the United Nations Millennium Development Goals (MDG) including poverty, human rights, peace, and the environment. At the symposium the Forum was inaugurated and its activities contents were unveiled.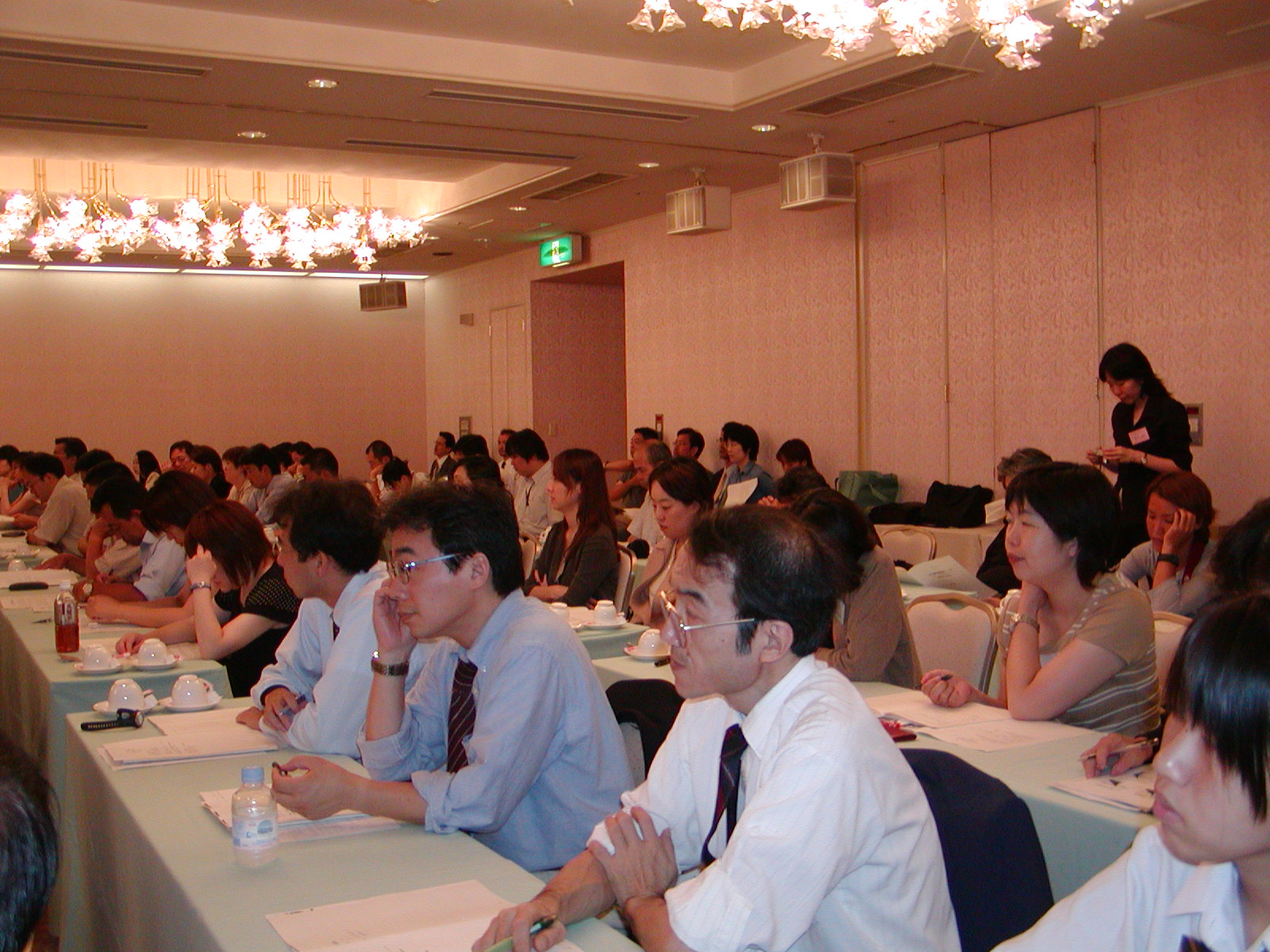 94 people from NGO and trade unions participated in the symposium. (July 26, Ikenohata Bunka Center)
In the opening speech, RENGO President Sasamori stated that "this 'Forum for NGO-Trade Unions in International Cooperation' being launched today and which has adopted the United Nations Millennium Development Goals is a truly epoch-making, significant effort." He called on the participants saying, "let us make an effort together by taking this opportunity to expand our base of supporters and, moreover, to abolish poverty and protect human rights as well as humanitarian support of the earth by creating the 'United Nations Millennium Development Fund.'"
Japan NGO Center for International Cooperation Chairperson Yoshitaka Funato, and Director of United Nations Development Programme (UNDP) Tokyo Office Akiko Yuge each gave speeches which then were followed by a special lecture by Osaka University of Economics and Law, Kinhide Mushakoji, Director of Centre for Asia Pacific Partnership (CAPP) on the theme of "Globalization and the Millennium Development Goals: a View from the Point of Socio-Economic Security."
Afterwards, members from both NGOs and trade unions gave reports on their own activities and collaborative projects on child labor as well as experiences in the developing of a partnership between NGOs and trade unions. RENGO Department of International Affairs Executive Director Nakajima and Japan NGO Center for International Cooperation Trustee Michio Ito explained the general idea behind the Forum. Each of the three project planning groups reported on their group activities regarding "child labor," "HIV/AIDS pandemic and other infectious diseases," and "the proposal and enlightenment of Millennium Development Goals" all of which are in the planning stages at this time.
Through this symposium, participants put their heads together to consider ideal methods of international collaboration between NGOs and trade unions as well as laying out clear visions for future cooperation.