2004 RENGO National Safety Network Rally Held
11 November 2004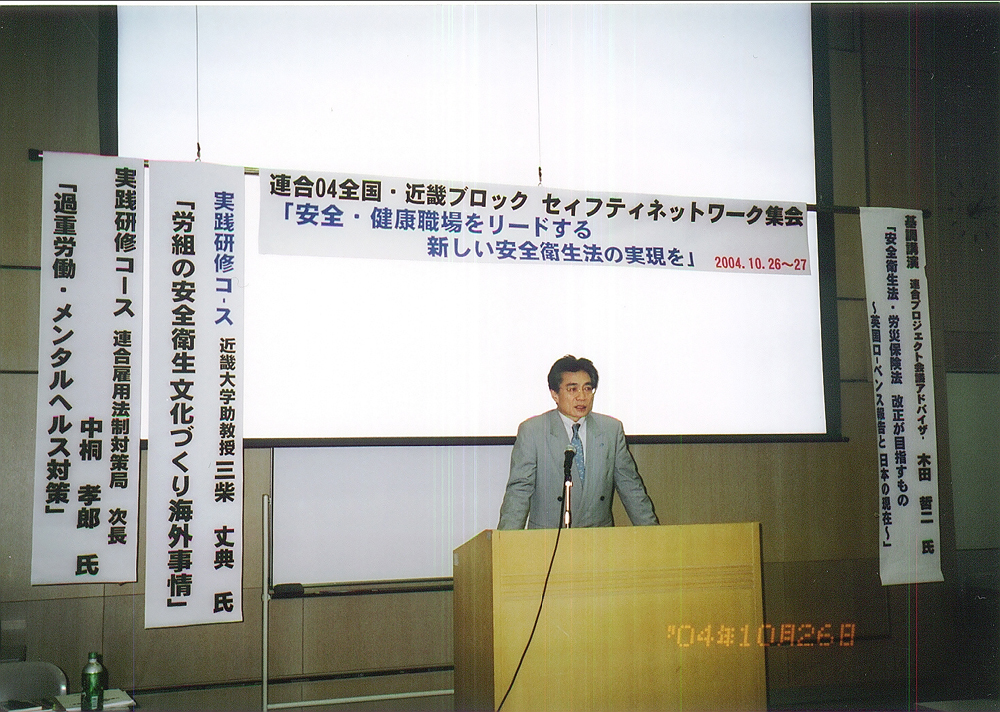 Photo: RENGO Department of Working Conditions Executive Director Suga gives an opening speech. (October 26, Osaka)
On October 26, RENGO conducted the 2004 RENGO National Safety Network Rally at L-Osaka (Osaka Prefectural Labor Center) with more than one hundred safety and health officials and industrial accident prevention counselors in attendance.
This year's program's themes are: "realizing new safety laws that will take the lead for safer and healthier workplaces" in line with revision of the current Industrial Safety and Health Law scheduled for next year and "the creation of a safe and healthy culture for trade unions and accountability for it," a topic which RENGO raised in its 2nd five-year safety and health program.
Doctor Tetsuji Kida, an industrial physician and special advisor to RENGO's task force on the revision of the Industrial Safety and Health Law, gave the keynote address. He pointed out that the Law should be changed so that it is easily understandable and complied with, workers' basic rights and protection of those rights should be defined. He also pointed out that the law should be changed so that specialists may engage at workplaces on an ongoing basis. On the second day of the rally, all participants joined in group discussions touching on the issues of "Workers' rights on safety and health," "Reasons why safety and health committees are not vital," and "What exactly should we do?" Participants confirmed that they will take advantage of the lessons learned at this rally when working to improve workplaces in future.