Summit Meeting with KEIDANREN
22 December 2004
On December 14, RENGO held a regularly scheduled meeting with Nippon KEIDANREN (Japan Business Federation) at the Keidanren Kaikan where both sides exchanged opinions on such problems as "employment issues of the young, part-time workers, and foreigners," "management of working hours," "capacity of worksites," and "corporate social responsibility." Attending the meeting from RENGO were President Sasamori, Acting President Hitomi, Vice Presidents, General Secretary Kusano, Assistant General Secretaries; from Nippon KEIDANREN were Chairman Okuda, the Vice Chairs, Chairmen of related committees, and Senior Managing Director Yano. At the meeting RENGO President Sasamori talked about labor and management's commitment to government's measures on non labor-related problems between labor and management. Sasamori said "let's put a stop to the downsizing and/or abolition of fixed-rate tax cuts that the government and ruling parties are planning on and bring about radical reform of the social security system through collaborative effort with labor and management."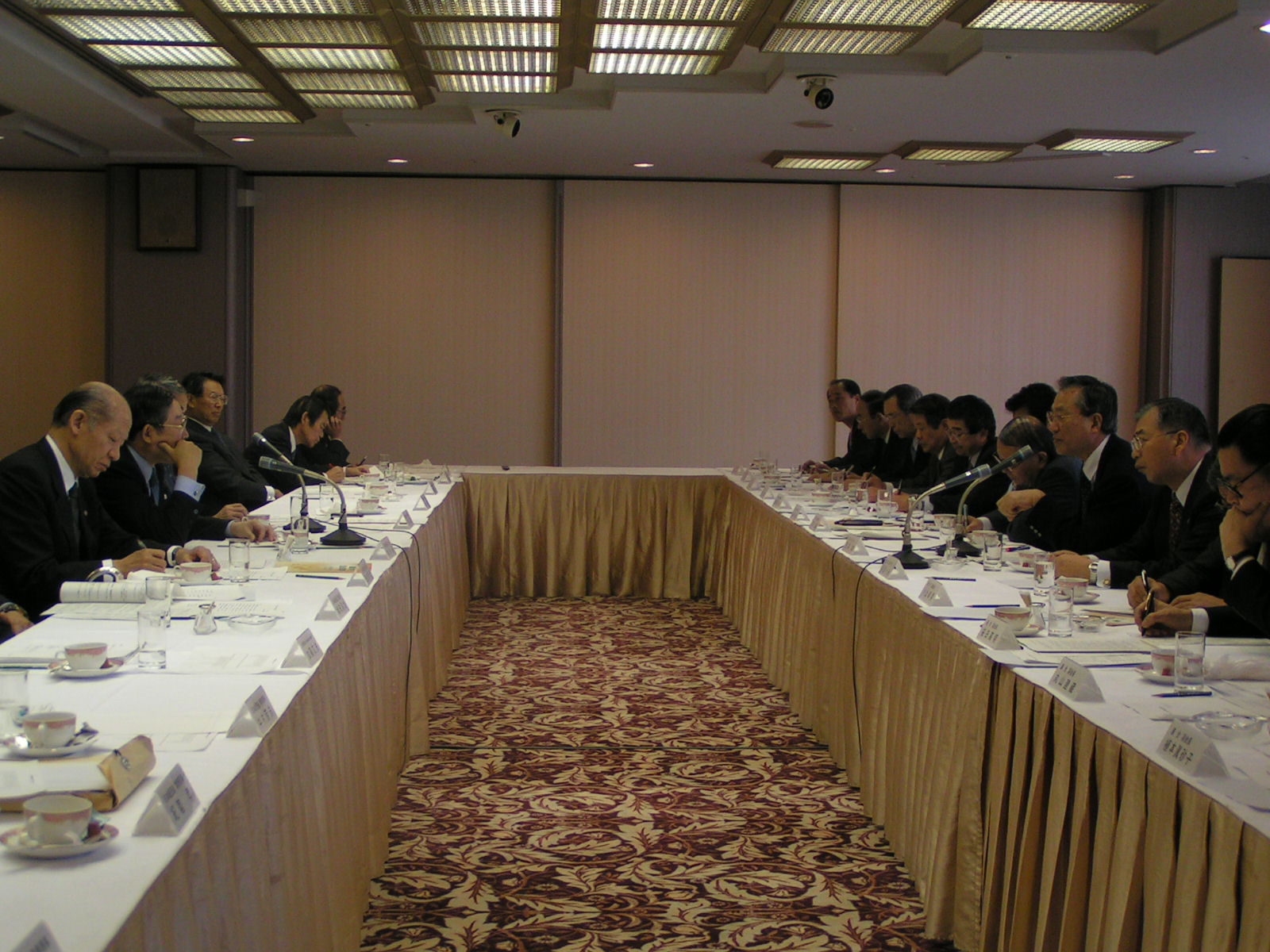 Photo: The regularly scheduled meeting. (December 14, Keidanren Kaikan)
In his speech President Sasamori said that currently there is a social polarization occurring between major and small to mid-sized companies, between the center and localities, and also in income disparities. He criticized this saying that it was unforgivable for the government to take measures that will widen the gaps even further and relentlessly attack the middle class. Sasamori said that with the economic situation as delicate as it is now fixed-rate tax cuts should not be abolished. And that labor and management should coordinate their efforts to carry out integrated reform of the social security and tax systems by any means.
Meanwhile Chairman Okuda talked about how the economic situation is now at a standstill and radical regional differences are now underscored by both robust and sluggish economies. He said that problems of the young are grave, young Japanese are less active than those in other countries; that Japanese youth worry about the future and distrust the nation. He said that there is a need for labor and management to talk honestly about their opinions.
At the opinion forum, RENGO presented such views as: "employment measures for the young," "establishment of equal treatment for part-time workers," " foreign workers should be received carefully," "working hour management should be positively guided, not left to the will of business," "restoring worksite capacity," and "promoting corporate social responsibility."
Nippon KEIDANREN offered its views on youth employment saying "a unified response by labor and management is needed," on managing working hours they said "we need fundamental reform of legislation including the introduction of a white-collar exemption system (white-collar workers not influenced by working hour management)." Regarding worksite capacity and corporate social responsibility, KEIDANREN said "it is important that managers visit worksites in order to revive their capacity" "establishing corporate ethics is the most important issue for corporate leaders" and "a labor-management consultation system is vital to cope with worksite capacity and working hour management issues."
In conclusion, President Sasamori closed the meeting by saying that "labor and management should be able to agree with each other on such issues as the economy, employment, and the capacity of worksites. We ask for your joint response along with us on the social security problem so that we may urge the government to take political responsibility. It is also important that labor and management take part in employing the young to teach them the notion of "work" through education."