Pep Rally to Oppose SDF Dispatch Extension
3000 People Demand Immediate Withdrawal
22 December 2004
In response to the unilateral decision by the cabinet to extend the term of dispatch of the Japanese Self Defense Forces in Iraq after the Diet had adjourned and without any explanation to our citizens, RENGO held its "12.17 Central Pep Rally to Oppose the Extension of SDF Dispatch in Iraq and Seek for its Immediate Withdrawal" at the Hibiya Amphitheatre in Tokyo with 3000 people in attendance. Policy Research Committee Chair Sengoku of the Democratic Party of Japan and Social Democratic Party leader Fukushima rushed to join the rally. Afterwards, participants marched from Ginza to the Tokyo Station area chanting "No War!" and "Extension is Unforgivable!"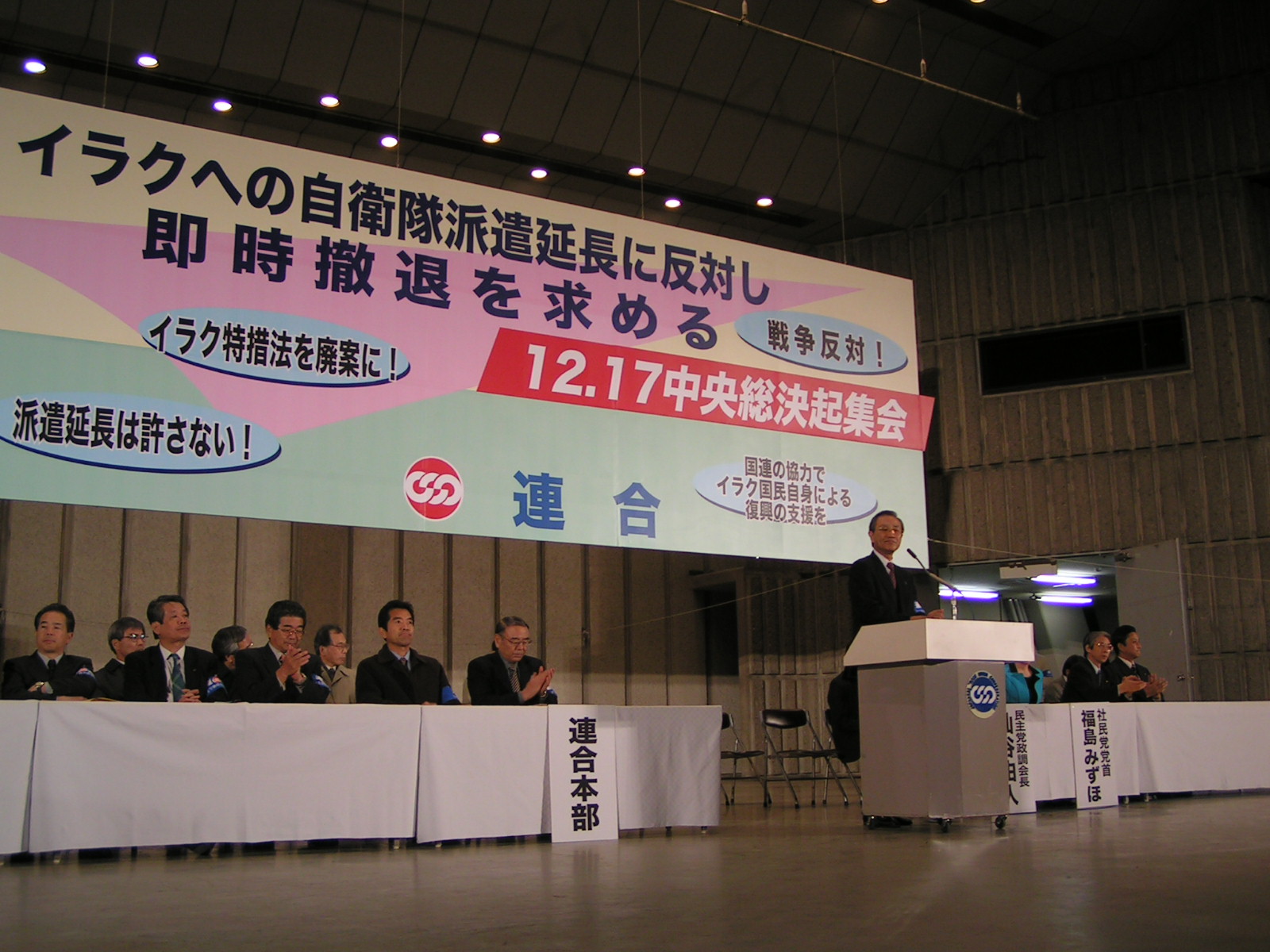 Photo: President Sasamori speaking to the rally. (December 17, Hibiya Amphitheatre)
President Sasamori lambasted the Cabinet's decision saying "it is meaningless to send the Self Defense Forces to Iraq," "Koizumi Cabinet has failed to explain anything to our nation," and "there is no debate in the Diet." He appealed to participants saying "we must not give up just because they say the decision (to extend the dispatch period) was forced through." He stated with untiring perseverance that "from now on we will continue time and again to vent the anger of our fellow workers across the nation until the withdrawal of the SDF is a reality."
Democratic Party of Japan, Research Committee Chair Sengoku emphasized that his Party strongly opposed the dispatch of the SDF and that they submitted a bill to discontinue the Law Concerning Special Measures for Humanitarian and Reconstruction Assistance in Iraq at the extraordinary Diet session. He expressed solid determination by saying "the DPJ pledge to fight with one heart together with everyone gathered here today for the withdrawal of the SDF from Iraq as soon as possible." Social Democratic Party leader Fukushima told attendees "let's change these awful politics, which fail to explain the situation to our citizens from the Diet and which collaborate with the war. We will continue to demand the withdrawal of the SDF with all of our power."
Finally, the rally adopted the following appeal: "RENGO, strongly opposes the government's decision to extend the term of dispatch as was carried out as expected without any serious or basic discussion in the Diet, and we demand the immediate withdrawal of the Self Defense Forces from Iraq." The rally ended with President Sasamori's call for 'united solidarity'.