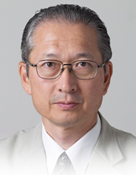 Rikio KOZU
President
Since its establishment in 1989, RENGO has been striving to maintain and improve working conditions, work on policy, organize, and, last but not least, assist in the
recovery from the disastrous Great East Japan Earthquake.
Against the rapidly changing socio-economic environment, we have seen a sharp increase in non-regular employment contracts, leading to widening income disparity and increasing poverty. RENGO regards such a society as unsustainable.
RENGO is expected, as the biggest workers' organization in Japan, to play a role in challenging and overcoming all injustice in society.
We are determined to stop widening disparities and create a society with a sense of reliance and solidarity in which people, the younger generations in particular, can live and work vibrantly and comfortably.
RENGO aspires to bring about "a secure society based on work," and is determined to devote ourselves to achieve this goal.
an energetic and participatory society which enables people to try hard to attain self-fulfillment ;
attaching the highest importance to "work,"
based on self-reliance as well as mutual support, with
anybody being able to participate under fair working conditions and through various ways of working.
RENGO strives for achievements, through the construction of the following 5 "Bridges"
"

Bridge

" between work and education,
"

Bridge

" from unemployment to work,
"

Bridge

" to transform ways of work,
"

Bridge

" between work and the family, and
"

Bridge

" between work and retirement.