2005 Spring Struggle: 2.9 Central Rally Kick-Off Declaration Held
Stop Koizumi's Structural Reform that Widens Disparities/Burdens!
16 February 2005
On February 9th, RENGO held its 2.9 Central Rally to declare the official start of the 2005 Spring Struggle at the Bunkyo Civic Hall with the main slogan of "Stop Koizumi's Structural Reform That Widens Disparities and Increases Burdens!" with 2385 members rallying in attendance. Attendees pledged to fight for the realization of a fair society where the efforts of diligent workers are rewarded and adopted the Spring Struggle Kick-off Declaration.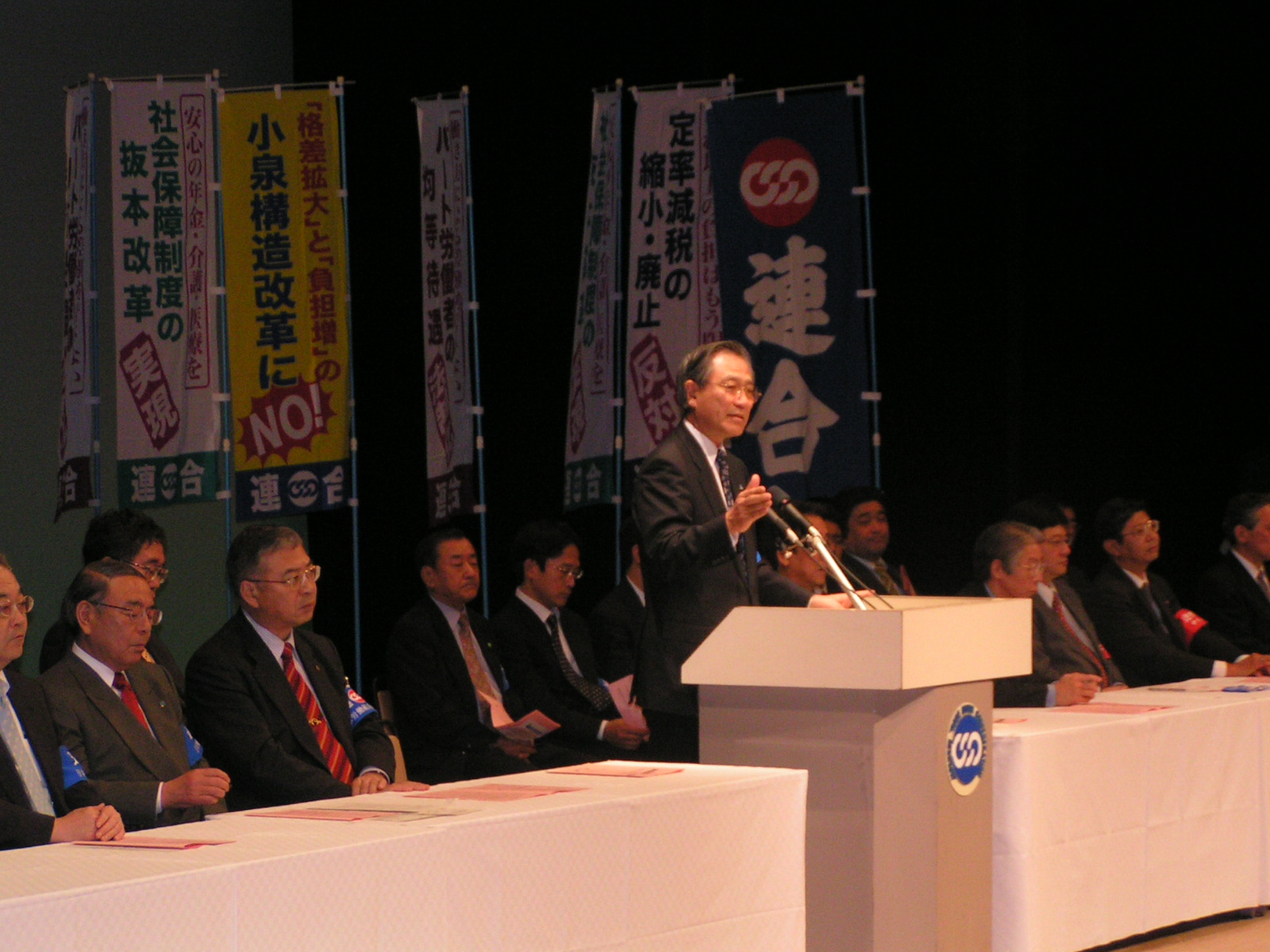 Photo: Central Struggle Committee Chair Sasamori speaking to the participants. (February 9, Bunkyo Civic Hall)
At the start of the Spring Struggle, Central Struggle Committee Chair Sasamori outlined the circumstances describing that every index, which had continuously declined, hit rock bottom the year before the last and now are on a somewhat upturned track. He stressed that "the recovery of business performance has been brought about at the expense of the huge sacrifices and contributions of many workers. In order to see that this surplus in performance is passed along to workers' wages, jobs, and labor conditions, and in order to get more answers than we did in our demands last year, what is crucial is whether or not we can fully demonstrate our power in complete coordination among the enterprise-based unions, industrial federations, the National Center, and RENGO locals (local organizations)." So saying, he strongly called on participants to "fight together for victory."
On the matter of policy issues, Sasamori said that RENGO will lead the way with all its efforts to formulate a struggle that will resolve these issues and he especially criticized the ruling parties' bill as being inadmissible as phasing out a fixed-rate tax cut will directly attack salaried worker households. Sasamori expressed with great determination that in order to block such a movement, RENGO will earnestly work to smash the government/ruling parties' bill in conjunction with the Democratic Party of Japan and the Social Democratic Party. Sasamori also touched on the subject of the ICFTU's Asian and Pacific Regional Organisation (ICFTU-APRO) Regional Conference in Nepal which continued despite the recent proclamation of a state of emergency. He said such a situation illustrates the importance of peace, freedom, and democracy and that RENGO will continue its support through such means as lodging protests so that the Nepal Trade Union Congress and the Nepalese people can reclaim their freedom and peace as soon as possible.
Attendees raised their voices from the floor of the venue saying that they "are unable to feel any sense of security about the future" and that they have "misgivings about pensions" and have a "hard time making ends meet." Dispatched workers also made their heartfelt appeals known by saying that "we are emotionally strained due to worries whenever we think about the possibility of our being fired. We seek even the slightest improvement in our situation terms at the Spring Struggle."
Democratic Party of Japan Secretary General Kawabata and the Social Democratic Party Secretary General Mataichi each gave solidarity speeches, the UI ZENSEN (Japanese Federation of Textile, Chemical, Food, Commercial, Service and General Workers' Unions) and the UNYU ROREN (All Japan Federation of Transport Workers' Unions) expressed their determination to fight for the Spring Struggle on behalf of their members, and the rally adopted the Spring Struggle Kick-off Declaration. Along with RENGO President Sasamori's three-part cheer, attendees pledged to fight and win the Spring Struggle.