2005 Spring Struggle: Forum Held for Differentials Correction
Realize Fair Business Relations/ Rectify Labor Condition Disparities
28 February 2005
On February 22nd, RENGO held its Differentials Correction Forum at the Ikenohata Bunka Center. Approximately 200 people attended from affiliated organizations and RENGO locals in order to bring about fair business relations and to redress labor condition differentials. Assistant General Secretary Kubota gave a speech saying that activities to correct differentials must be taken as a problem for all trade unions and not only for the small and medium-sized trade unions. He stressed that the role that major unions in particular play in this process is important. Attendees listened to a lecture entitled the "Current State of the Application of the Subcontract Act" by the Japan Fair Trade Commission as well as to reports of specific cases that attempt to correct differentials by affiliated organizations.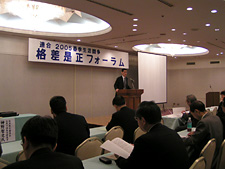 Photo: RENGO Assistant General Secretary Kubota speaks to the attendees. (February 23, Ikenohata Bunka Center, Tokyo)
Speaking about this annual forum Kubota said, "This year's Differentials Correction Forum occupies a special position and has particular weight." He urged participants by saying, "How we will put the brakes on sundry differentials is the big theme for the Spring Struggle. Let all of us try to enhance the general level."
Then participants heard a speech on specific advisory cases entitled the "Current State of the Application of the Subcontract Act" delivered by Japan Fair Trade Commission Subcontracts Inspection Senior Officer Jinno. The Subcontract Act, or as it is formally known, the Act Against Delay in Payments of Subcontract Proceeds, Etc. to Subcontractors, aims to ensure fair subcontract transactions and in order to protect the interest of subcontractors, sets requirements and proscriptions for parent firms. The Japan Fair Trade Commission conducts documentary investigations of parent companies and subcontractors, uncovers violations, advises and discloses the findings given the nature of the subcontracting parties, that is, that subcontractors are in a vulnerable position and are therefore hesitant to report allegations of violations of the Subcontract Act by parent firms.
As for case studies of activities by affiliated organizations, UI-ZENSEN (Japanese Federation of Textile, Chemical, Food, Commercial, Service and General Workers' Unions) Standing Executive Committee member in charge of policies Takaishi reported on cases of "Activities of major/ small to mid-sized trade unions meetings" at textile firms. Food-RENGO (Federation of All Japan Foods and Tobacco Workers' Unions) Vice General Secretary Ogura reported on "Activities aiming to realize fair distribution business practices" a case to improve the problems of suppliers providing services to retailers. JICHIRO (All-Japan Prefectural and Municipal Workers Union) Trade Unions for Private Workers in Public Service Council Secretary General Obata gave participants a report on his activities to seek and establish fair labor standards for public contracts.
In closing, RENGO Headquarters Department of Working Conditions Executive Director Suga stated that when we consider differential corrections it is important to know the situation and status of disparities within one's own firms, industries and businesses; to examine issues on one's own and analyze the current conditions. He also told forum attendees of the necessity for information disclosure.