3.8 International Women's Day Central Rally Held
Equal Treatment for Men, Women, Part-time Workers; Equal Pay for Equal Value of Work!
17 March 2005
On March 8th, RENGO held its 3.8 International Women's Day Central Rally of National Joint Action at the Yurakucho Yomiuri Hall in Tokyo. Held for the 10th time since its inception in 1996, the national joint action drew 720 attendees under the theme of "Realize Equal Treatment for Men, Women, and Part-time Workers; Realize Equal Pay for Work of Equal Value!" In its 2005 Spring Struggle Policies, RENGO proposed that some of the issues that every union will work for were the correction of wage gaps among men and women as well as the realization of equal treatment and RENGO General Secretary Kusano urged participants to do so in a positive manner. After a lecture from Professor Mutsuko Asakura on the "Problems in Employment Equality Legislation" and activity reports on the realization of equal treatment at affiliated organizations and the workplaces, a report was presented at the rally by RENGO Assistant General Secretary Hayashi on "Beijing +10" part of the United Nation's Commission on the Status of Women. Participants at the rally learned about real conditions facing the correction of wage gaps and finding equal treatment, they considered what trade unions should work on, and pledged to take action in their own workplaces and districts based on the discussions they heard at this rally.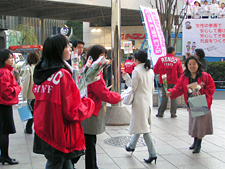 Photo: Participants hand roses to passersby during street activities conducted before the rally. (March 8, Yuraku-cho, Tokyo)
General Secretary Kusano once again told those in the audience that all trade unions should develop activities at the Spring Struggle, which is soon approaching its peak in the first half, to improve the treatment of part-time workers and seek equal conditions for them. Kusano also pointed out that although we are seeing an increase in the participation by women in international labor movement conferences worldwide, such as the ICFTU World Congress and the APRO regional conference, in Japan various gender-related problems remain unsolved in the workplace. He said that one crucial point is the extent to which men understand this issue. With regard to the Part-time Workers' Law, one of RENGO's policy/system issues, Kusano determinedly stated that RENGO will further enhance its countermeasures against political parties and National Diet to see that the law receives discussion in the current Diet session and that its enactment is reached.
Waseda University Law School Professor Mutsuko Asakura gave a lecture on the legislative problems of employment equality focusing on the prohibition of indirect gender discrimination. Asakura emphasized the importance of abolishing indirect discrimination saying that "women workers are less likely to receive direct gender discrimination with the passing of various new measures but they still suffer disadvantages through employment management division or in types of employment as well as those disadvantages brought about by pregnancy, childbirth, and raising children and general nursing care."
Following the activity reports on equal treatment by NIKKYOSO (Japan Teachers' Union), DENKI RENGO (Japanese Electrical Electronic & Information Union), and JSD (Japan Federation of Service and Distributive Workers Unions) RENGO Assistant General Secretary Hayashi presented a report on "Beijing+10"° a ten year review and appraisal of the Beijing Declaration and Platform for Action°ňwhich was part of the United Nation's Commission on the Status of Women held in New York. Hayashi appealed to the participants saying, "Adding language that clearly prohibits indirect discrimination in the Equal Employment Opportunity Law and establishing the Part-time Workers' Law will lead to the next stage where we domestically practice those matters that the UN Commission on the Status of Women has been proposing. Let us become aware of our position in the international context of women movements and work to build solidarity with other global movements."