Summit with JCCI Held
Seek Joint Responses to Politics
24 March 2005
On March 17, RENGO held a summit meeting with the Japan Chamber of Commerce and Industry (JCCI) in Tokyo. RENGO called for a joint response on such political issues as employment measures, measures for stimulating small and medium-sized enterprises, and radical reform of the social security and tax systems. As for the Spring Struggle which will face its peak period of negotiations for small-and-medium sized unions beginning March 22nd, RENGO urged the JCCI to improve the level of wage and labor conditions for workers in small-and-medium sized enterprises. Both parties vigorously exchanged opinions on a variety of issues including the abolition of unpaid overtime, a jump in the number of atypical employed workers, employment of senior citizens, accepting foreign workers, and the minimum wage system.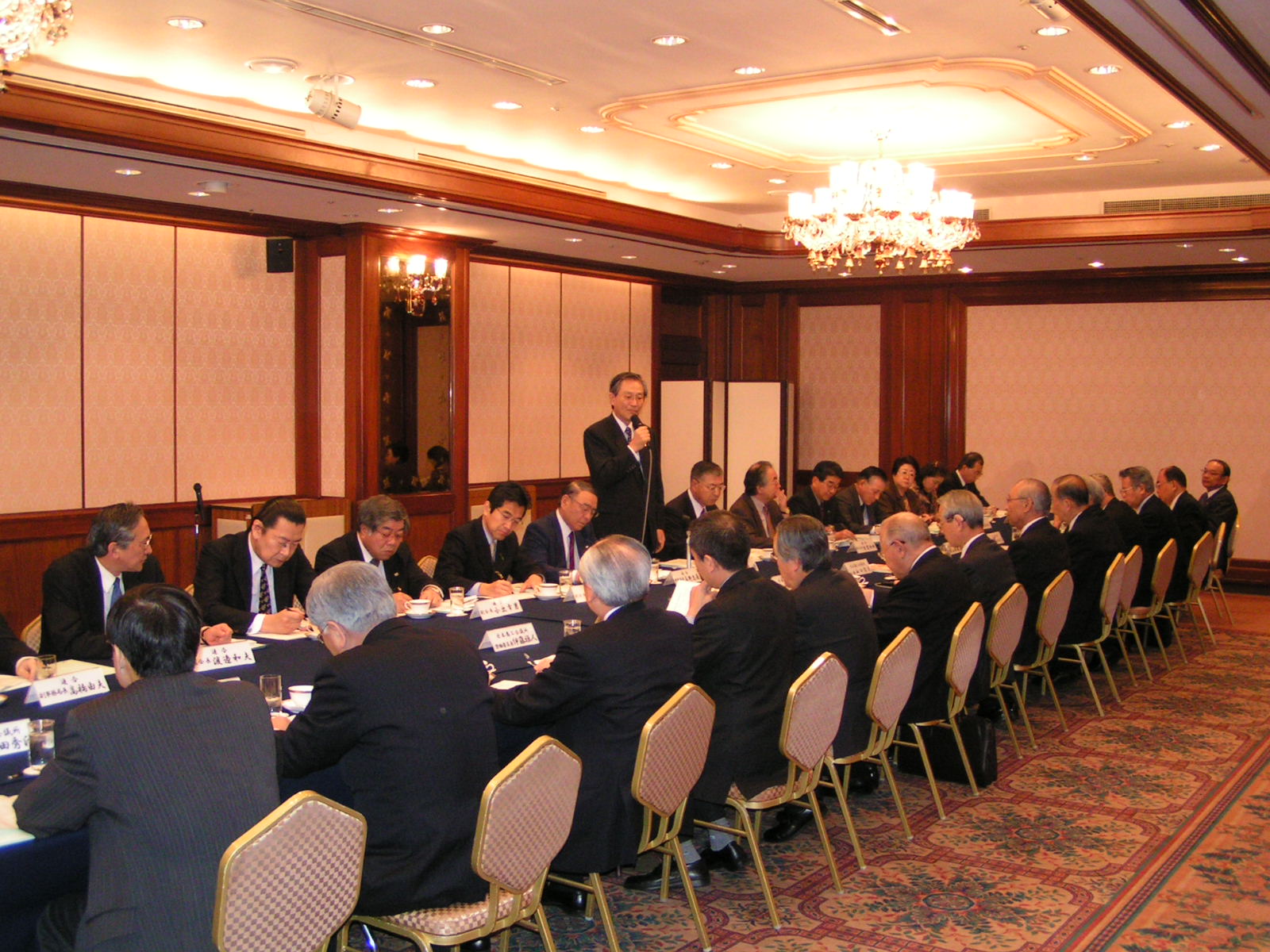 Photo: President Sasamori delivering the opening speech. (March 17, Tokyo)
In his opening speech, RENGO President Sasamori called for joint response by labor/management toward politics in order to bring about an improvement in employment, the nurturing, enhancement, and revitalization of small to medium-sized enterprises, the revival of local economies, and radical reform of social security and tax systems during the 2006 fiscal year. Regarding the Spring Struggle, Sasamori pointed out that "many small and medium-sized enterprises and local businesses have yet to establish wage systems." He told attendees it was up to labor and management to put their collective heads together in order to resolve such problems as how much workers wages would increase this year and how we can reduce disparities in wages between these workers and those in major enterprises.
JCCI Chairman Yamaguchi responded by stating that, "I want you to realize how greatly the small and medium-sized enterprises are still suffering. (We think) employment is the most crucial issue followed by wages. Unless employment stabilizes the Japanese economy cannot be a healthy economy. However, what labor and management need to work together on are the issues of
Freeters
(part-time freelancers) and
NEET
(youth
N
ot in
E
ducation,
E
mployment, or
T
raining)." Yamaguchi also said that "in difficult circumstances, disparities may not be made up with wage (increases) alone. It is necessary to resolve these, including political problems, through social distribution." .
During the opinion exchange, RENGO said "there are many small and medium-sized business owners who do not even understand the notion of a wage system. Wages will continue to fall if nothing is done. Further, the wage order in small and medium-sized enterprises has been in a jumble for the past several years. In an effort to redress this situation, we have demanded 5700 yen, which represents a 500 yen increase over the previous year." RENGO strongly pushed for a raise in wage levels..
Furthermore, RENGO's demands urged the JCCI as follows. "The increase of atypically employed workers creates the possibility of various problems beyond unstable employment and labor condition differentials. We ask that you strengthen activities to bring about equal and balanced treatment while at the same time actively pursue human resources development." "We want you to proactively take action to instruct each business that improving the unpaid overtime situation is a necessary part of compliance and that they understand it is a part of fulfilling their social responsibilities." "RENGO created the 'Trade Unions Policy Proposals for Revitalization of Localities/Small and Medium-sized Enterprises' and are proposing the creation of a network among industry-government-academia as well as financial institutions and trade unions. We have asked the national and local governments for support and we hope to ask for the understanding and cooperation of chambers of commerce and industries across the nation as well.".
The JCCI responded to RENGO's request by stating that "Wage levels should be individually determined based on each businesses' results. Economic recovery has mainly been centered in the major enterprises. Because small and medium-sized enterprises are unable to downsize, personnel costs are proportionally high. We ask that you understand that unless profits improve they will not be able to raise wages." The JCCI said that "We are considering reducing costs while maintaining employment. We would like to ask for your understanding regarding an increase in atypically employed workers." The JCCI further expressed their dissatisfaction with the government's budget for this fiscal year saying that "it should earmark much more for expenditures on measures for small and medium-sized enterprises.".
In closing, President Sasamori said that "we would really like to come to a meeting of the minds with the JCCI on employment measures and small and medium-sized enterprises revitalization measures. And we want to reconcile issues of falling birthrates, aging society, and education as issues common to both of us. We hope that the JCCI will pay attention to the jump in numbers of atypical workers and we hope that we can ingrain the notion of equal treatment into Japanese society as a whole while working together with the JCCI to build consensus." He said "excessive deregulation and mistakes in Koizumi's structural reform have had a huge impact on employment and the economy in Japan. We sincerely want the JCCI as a representative of management to point out that global standards do not equal American standards." He also asked for a reconciliation of opinions regarding the 'minimum wage system' and the 'expansion of nursing care insurance applicable range' upon which RENGO and the JCCI share different points of view..
The JCCI Chairman Yamaguchi answered by saying "to think the American way; that business people's prime job is to enhance corporate value and that stock holders are the most important is stepping over the line. That stock holders are important is obvious, however, employees are what is really important and we should consider contributing to the society which includes customers." On the other hand, he emphasized that "we are concerned that we will not have a stable economy unless we have economic growth driven by domestic demand. We believe that employment is the most crucial issue and that we must first protect employment by protecting businesses. In order to do this, the reality is such that we must become involved with wages."