Demand that the Government Abolish Nukes
7,786,253 Signatures Collected
28 April 2005
RENGO, GENSUIKIN (Japan Congress Against Atomic and Hydrogen Bombs), and KAKKIN (National Council for Peace and Against Nuclear Weapons Towards the abolition of nuclear weapons and construction of world peace) have been working on the "10 Million Signature-Collecting Campaign to Demand Abolition of Nuclear Weapons" in a coordinated manner and succeeded in gathering 7,786,253 signatures as of April 22nd.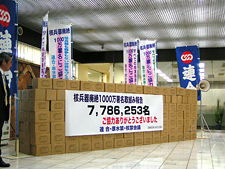 Photo: Signatures collected from 7,786,253 people. (RENGO Headquarters, April 25)
We would like to take this opportunity to give our sincere thanks to all of you who supported the campaign.
RENGO, GENSUIKIN, and KAKKIN took the collected signatures to submit during a visit to the Prime Minister's office on April 25th and demanded that the government accelerate its efforts for the abolition of nuclear weapons and long term peace.
Furthermore, RENGO, GENSUIKIN, and KAKKIN will send a delegation to New York to coincide with the 2005 Review Conference of the Parties to the Nuclear Weapons Non-Proliferation Treaty (NPT) to be held beginning May 2nd at the United Nations Headquarters in New York.
We are planning to conduct the following activities:
Submit a request to UN Secretary-General Annan (President of the 2005 Review Conference, Ambassador Sérgio de Queiroz Duarte of Brazil, Ambassador for Disarmament Affairs, will respond to the delegation.);
An Atomic Bomb Photo Exhibition;
A demonstration for Peace with other NGOs;
An international trade union conference co-sponsored by the ICFTU.