2005 RENGO Central Rally Held
Realizing Secure & Reliable Medical/Long-Term Care is Theme
24 May 2005
On May 14th, RENGO held its 2005 RENGO Central Rally entitled "Secure and Reliable Medical and Long-term Care" at the Hitotsubashi Hall in Tokyo. The rally was held in order to establish patient/user-oriented "Safe, Secure, and Reliable" medical and long-term care as well as to improve job/labor conditions for workers in the medical/long-term care fields. 820 participants from 30 affiliated organizations were in attendance at the rally. The "Medical/welfare liaison council" is the twelfth liaison council in RENGO and this is the second time the rally has been held since it was established.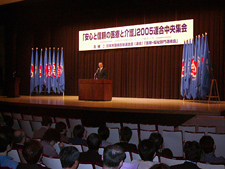 Photo: President Sasamori giving a speech on behalf of the organizers. (May 14, Hitotsubashi Hall, Tokyo)
On behalf of the organizers, RENGO President Sasamori gave a speech in which he said that "We at RENGO have been looking for more integrated activities for social security policies. Workers in medical/long-term care field will become increasingly more important in order to enable our citizens to lead secure, reliable and stable lives. We want this rally to fortify an active workers' network for you and also we must have activities where RENGO's members can display their organized power in this field."
RENGO Headquarters Welfare Policy Division Director Ojima reported on the current state of RENGO's activities.
The rally included a keynote lecture entitled "Considering the Current Situation and Future Prospects for Medical Care and Long-term Care" offered by Saitama Prefectural University Health and Welfare School Professor Go Miyatake, which focused on the actual state of affairs at medical/long-term care sites.
In the afternoon the participants divided into in the following three sub-sessions where they actively exchanged opinions: "Redistribution of issues to formulate the 6th nursing demand prospects," "Influences from the revision of the Long-term care insurance law and its related problems," and "Current state of co-medical staff after on-site alterations in the medical field." Following that was a general summary led by Medical/Welfare Liaison Council Vice Chair Miki who gave a general briefing and report on the discussions held at each of the three sessions. Participants adopted the rally's appeal that seeks the realization of medical care and long-term care that are secure and reliable for both medical/long-term care workers and patients/users. Then Medical/Welfare Liaison Council Chair Oumi once again assured attendees of the importance of this rally for workers in medical/long-term care after which the rally was concluded.
To offer high quality medical/ long-term care services it is necessary to secure job/labor conditions for workers who take on medical care/long-term care/welfare service, and also necessary to create an environment where people can work with a sense of security and pride. Therefore, in response to today's rally, the Medical Care/Welfare Liaison Council will conduct a demand activity on the Ministry of Health, Labour and Welfare.