RENGO Global Warming Survey Mission Visits Germany, England
24 May 2005
From May 9th to the 19th, the Global Warming Prevention Survey Mission consisting of 14 members mainly from RENGO's Environment Subcommittee visited Germany and Great Britain to meet with government, labor, and management representatives in those nations and hold meetings on such issues as the environmental taxation introduced in those nations, their various responses to carbon dioxide emission trading, and its influence on industry and the lives of their citizens.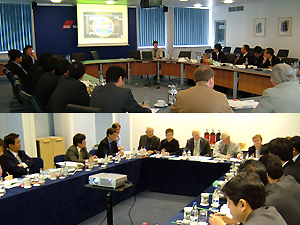 Photo: Exchanging opinions with DGB and TUC
On May 13th, the RENGO group met six members of Environmental Policy Division of the DGB in Berlin and exchanged opinions on system planning for environmental taxation and emission trading and ways to keep industries competitive as well as strategies by which trade unions might engage in these two issues.
On May 16th, the group met in London with eight members of TUSDAC (Trade Unions Sustainable Development Advisory Committee) of the TUC. Participants discussed on such issues as the prospects and problems of environmental taxation and emission trading systems, to be established by achieving targets through the voluntarily commitment of unions as well as the current progress on these policies by trade unions.
In Japan, the Cabinet's approval of the Kyoto Protocol Target Attainment Plan at the end of last April will spur stronger measures in order to achieve a 6% reduction in greenhouse gas emissions as well as accelerate discussions over ways in which to introduce those schemes. RENGO's Environment Subcommittee will encourage a discussion based on the results of the inquiry and in response to that movement.