Against U.S./U.K. Nuclear Testing ! - Protest rally at Embassies
27 February 2006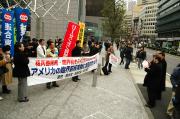 On February 24th, 80 unionists gathered in front of the U.S. Embassy in Tokyo to participate in a protest rally against sub-critical nuclear testing (conducted on the afternoon of Feb. 23rd U.S. time - 5a.m. Feb. 24th Japan time) which is being forced by the United States and Great Britain. The rally was co-sponsored by GENSUIKIN (Japan Congress against Atomic and Hydrogen Bombs), KAKKIN Kaigi (National Council for Peace and Against Nuclear Weapons), and RENGO Local of Tokyo.
After representatives from each of the organizations gave presentations to the U.S. Ambassador, they delivered a letter of protest for President Bush to Counselor for Labor Affairs Ann M. Kambara of the US Embassy in Tokyo to express their objections over the nuclear testing. They also strongly demanded that the U.S. Government step up implementation of the CTBT° Comprehensive Nuclear Test-Ban Treaty°ňand work toward the abolition of nuclear weapons.
Counselor Kambara explained that "the experiment was conducted to collect data for nuclear weapon management and did not involve any nuclear explosions or leaks." Kambara also added, "It is significant that we can hold discussions on NPT (Treaty on the Non-Proliferation of Nuclear Weapons) and CTBT matters."
Representatives also visited the British Embassy on the same afternoon to hand deliver a protest appeal to British Prime Minister Blair. Protest rallies were also held at the same time in Hiroshima and Nagasaki. At the same time, telegrams of protest are sent to the U.S. and British Embassies by RENGO Locals.