3.8 International Women's Day - Create the Gender Equal Employment Law! -
10 March 2006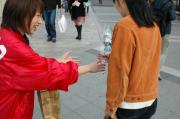 On March 8th, RENGO conducted its 3.8 International Women's Day: United National Action Central Rally at the Yomiuri Hall in Tokyo. The 11th United Action, which was started in 1996, was held under the following theme: "Let Us Create the Gender Equal Employment Law!" with 798 attendees (478 women, 321 men.)
Expressing his determination on the Equal Employment Opportunity Law amendment bill which was approved in a Cabinet meeting on March 7th and then proposed to the Diet, RENGO President Takagi said that "We must win on three points of revision. Namely; the bill should specify the idea of balancing work and life, the bill should be revised so that the standard for banning indirect discrimination will not be narrowly limited, and the bill must oblige business owners to take 'positive action' (affirmative action)." He then called on the participants to cooperate with actions in and outside of the Diet for the enactment of a Gender Equal Employment Law which is RENGO's ultimate goal.
Talking about the 2006 Spring Struggle, at a time when we are close to receiving responses from management, President Takagi strongly appealed to attendees by saying "Expectations for this year's negotiations are high. Let us get results so that we can meet the expectations of many workers."
During the part of the Rally where concrete activities for the 2006 Spring Struggle were proposed, Assistant General Secretary Yamaguchi restated the importance of understanding the actual wage situation in order to fight for disparity correction. This was followed by a series of reports on various activities taking place at affiliated organizations and workplaces including a report by a male worker based on his real-life experience in taking maternity leave at his workplace which is affiliated with the All NTT Workers Union of Japan.
Finally, Yamaguchi called on the participants to "gain appreciable results at the Spring Struggle and aim to create a Gender Equal Employment Law."
Rally Appeal
The history of the 3.8 International Women's Day dates back approximately 150 years. The first rally was held on March 8th, in order to protest low wages and long working hours. It was triggered by an 1857 factory fire in New York City that killed many female workers. Since that time, March 8th has been set aside as a day of commemoration for those people who fight for political freedom and equality for women. Since 1975, the United Nations established "International Women's Day" which has led to various actions developed around the world.
RENGO will include International Women's Day actions within the 2006 Spring Struggle. In particular, this year we intend to conduct such activities as national united actions that will widely appeal to all levels of society, especially since the Diet will be deliberating on the Equal Employment Opportunity Law amendment bill.
Certain points in the Ministry of Health, Labour and Welfare Labour Policy Council's Equal Employment Opportunity Subcommittee's recommendation compiled at the end of last year were commendable with regard to such matters as the details for abolishing discrimination, outlawing unfair treatment due to pregnancy/childbirth, as well as countermeasures against sexual harassment, and so forth which almost measured up to RENGO's demands. The recommendation's results fell very short, however, on the bigger focus that RENGO had been working for - that is, the banning of indirect discrimination - in that it only listed standards and rules for the banning of indiscrimination to a limited extent.
Twenty years have passed since the implementation of the Equal Opportunity Law and we no longer see the sort of direct discrimination against women that existed when the law was first enacted. Yet, even in the absence of institutionalized discrimination, "indirect discrimination" still surfaces in different forms in custom and practice causing either gender to bear disadvantages. The situation is that disparities are in fact expanding.
Back when the Equal Employment Opportunity Law was revised in 1997, there were no concrete activities that took place, in spite of the fact that there were demands for countermeasures against the problem of indirect discrimination, matters were left unsolved. Given that situation, it is necessary that affiliated organizations and unit unions understand what the real conditions in workplaces are in the light of the law's revision and that they work to improve the system.
It is hard to understand the problem of discrimination unless you are the party discriminated against. We need a detailed examination into how women are actually working in the workplace. The people to carry out this role would be the many women who are attending this rally.
Full-scale deliberations are about to begin in the Diet that aim to revise the Equal Employment Opportunity Law. Let's actively participate in such activities as sitting and listening to deliberations in the Diet sessions as well as at various rallies, and see that women workers voices are heard in the Diet.
Using what you learned here at this rally as an example, let us act all of us each in our own capacity to work for the realization of an effective Gender Equal Employment Law.
March 8, 2006
RENGO 2006 Spring Struggle - International Women's Day National United Action Central Rally