Top Level Meeting with Japan Chamber of Commerce and Industry
16 March 2006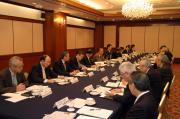 On March 16th, RENGO held a top level meeting with the Japan Chamber of Commerce and Industry in Tokyo where both sides exchanged opinions on such issues as the 2006 Spring Struggle negotiations as well as disparity problems.
Speaking about the intensive results received from management and released on March 15th, RENGO President Takagi said that "For the first time in several years (labor) won gains in wage resources (pay scale increases) and we see this as an indication that management has properly understood our claims." He then again appealed for the need to correct disparities between major and small to mid-sized businesses, as well as for the equal treatment of part-time workers.
Attending on behalf of the Japan Chamber of Commerce and Industry were JCCI Chairman Nobuo Yamaguchi and others. Yamaguchi said, "It is the small to mid-sized businesses that sustain the base of the Japanese economy and employees are who should be valued most. Major businesses need to rethink their attitude of profit raiding and shareholder-supremacy and fulfill their social responsibility to develop the group as a whole."
The JCCI and RENGO reaffirmed that local chambers of commerce and industry and RENGO locals will actively exchange opinions in order to deepen mutual understanding.
Let us put all of our effort into negotiations over disparity problems at small and medium-sized businesses and to improve the treatment of part-time workers!