Government-Labor Discussion Held on Public Service System Reform
22 March 2006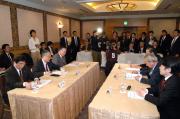 Caption:President Takagi at the Press Conference
On March 20th RENGO held its second Government-Labour Discussion on the issue of public service system reform.
In response to a remark made by Minister of State for Administrative Reform Koki Chuma that said "regarding the issue of basic labor rights, (the government) would like to set up a consultation table on the scope of public service workers to be given basic labor rights," RENGO General Secretary Koga said that "(the government) should clarify their principle to give basic labor rights; problems still remain in the contents of what was raised today. However, we take this proposal as a sign of progress."
RENGO indicated that one of the matters of government concern was reform of the total personnel cost of government workers and that "under the government's policy of avoiding the creation of a dismissal problem, the government should inaugurate an employment adjustment headquarters with the Prime Minister as Chief and establish a comprehensive system." Minister Chuma responded by saying, "we are complying with your request and continuing to study the situation. Whatever the outcome may be, we will continue to consider the creation of an effective system.
RENGO Basic Position on Basic Labor Rights, etc.
Right to Strike
Granted in principle (Self Defense Forces personnel, police officers, Japan Coast Guard officers are forbidden to strike)
Right to Organize,
Right to Collective Bargaining,
Right to Conclude Collective Labor
Agreements
Granted in principle for general government workers (the existing law is applied to SDF personnel, police officers, JCG officers for the foreseeable future)
Introduction of a Merit Payment System
It is questionable whether this would function effectively.
Guarantee of Employment and Status
Establish a new employment security system for general government workers that conforms to the Labour Standards Law and is separate from a guarantee of status. This does not exclude dismissals based on logical reasons.
Note: Based on RENGO's "Position on the State of the Public Service/Public Servant System" compiled in January