2006 Spring Struggle: Press Conference on 1st Wage Revision: Replies to Small/Med Unions
27 March 2006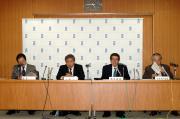 On March 24th, RENGO held a press conference in response to the first prepared summary of wage raise replies that small and medium-sized trade unions received from management for the 2006 Spring Struggle.
This year replies to union demands were received earlier and their contents exceeded last year. RENGO President Takagi praised conditions this year saying "For years now we have played defense. This time we have turned the tide even if only a little." Takagi praised the Small and Medium-sized Enterprises (SME) Joint Struggle, now in its third year, for its efforts that have produced great results. He recognized that some progress has been made in conditions until now in the struggle to improve hourly wages for part-time workers which will soon enter a decisive phase.
Amid the ongoing negotiation process for many unions, RENGO plans to hold a state of the SME/part-time workers Joint Struggle exchange meeting on March 31st where RENGO will further intensify the joint struggle and extending its achievement to the rest of unions for the improvement of labor conditions for workers in small to medium-sized unions and part-time workers.