Gender Equal Employment Opportunity Law Revision: 6.14 Rally at Diet Visitor's Area
14 June 2006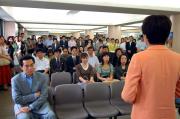 Lawmaker Ms. Chinami Nishimura explains the progress in the Committee to RENGO rally participants
On June 14th, RENGO encouraged Committee members from the Democratic Party of Japan at the Lower House lobby in response to deliberations over the revision of the Gender Equal Employment Opportunity Law which is entering a crucial stage in the House of Representative's Committee on Health, Welfare and Labor.
RENGO Vice President Masako Uemoto gave a speech on behalf of organizers and with determination said that "the prospect that today's deliberations should become the last is truly regrettable. The Gender Equal Employment Opportunity Law will decide the fate of all workers. The law as it stands is insufficient and we want you, the committee members from the DPJ and the Social Democratic Party, to take up our opinions and deliberate them to the very last possible moment so that they will make it to the next phase. Then we make them work in our struggles in the workplaces. We will work to realize our three demands in the Equal Employment Opportunity Law as well as to block any further deterioration of labor legislation."
Participants heard DPJ and House of Representatives Member Chinami Nishimura reported the committee's progress up until that point as well as to her determination for deliberation. Participants also visited and sat in on the committee's deliberations that same day.