The 61st anniversary of the atomic bombing !
Abolish Nuclear Weapons: 2006 Peace Nagasaki Convention
11 August 2006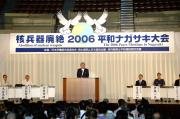 RENGO GS Koga delivers a speech at the Peace Nagasaki Convention. (Aug. 7, Nagasaki Prefectural Sports Center)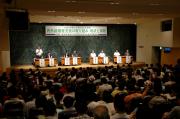 The "Support Activities for Japanese and Overseas Hibakusha: Real Conditions and Challenges" Symposium. (Aug. 8, Nagasaki Atomic Bomb Museum)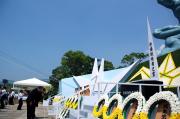 RENGO Nagasaki President Takaishi (background) offer flower wreaths after attending the Nagasaki City Peace Ceremony. (Aug. 9)
On August 7th, RENGO together with GENSUIKIN (Japan Congress against Atomic and Hydrogen Bombs) and KAKKIN (National Council for Peace and Against Nuclear Weapons) hosted the "Abolish Nuclear Weapons: 2006 Peace Nagasaki Convention" in Nagasaki city to commemorate the 61st anniversary of the atomic bombing with approximately 3500 people in attendance from across the nation. RENGO General Secretary Koga offered a speech on behalf of organizers in which he said, "As we still can see no end to the many territorial disputes and ethnic/religious conflicts, people across the world need to accept each other's values and to work to find solutions to their problems by peaceful means." He added decisively, "The three organizations of RENGO, GENSUIKIN and KAKKIN will strengthen their joint actions in order to establish a new peace movement while at the same time beefing up our cooperation with the ICFTU (International Confederation of Free Trade Unions) with the goal of intensifying our peace movements."
Nagasaki Prefecture Governor Genjiro Kaneko and Nagasaki City Mayor Itcho Ito were on hand at the rally. The Governor stated in his speech that "We will work to carry out sufficient support measures for aging
hibakusha
(atomic bomb survivors) who are still suffering from the aftereffects of the atomic bomb."
Tim Noonan ,Director of Campaigns and Communications representing the ICFTU, participated in the Hiroshima Convention, offered a speech of solidarity in which he said, "we join with you in renewing our commitment to solidarity and understanding between peoples, and we look forward to actively working with you in the future to turn our aspirations for a world without violence into reality."
After that, the participants listened to
hibakusha
Mr. Masahito Hirose's appeal, a peace message from "Peace Hiroshima Delegates" which consists of members from RENGO Local of Hiroshima youth/women committees and RENGO Local of Hiroshima delegation, and a message of determination from High School Peace Ambassadors. The Convention then adopted the "Peace Appeal from Nagasaki" as well as a special appeal to support a ruling by the Hiroshima District Court on August 4th regarding a lawsuit over the certification for atomic bomb-related illness victims which calls on (the central government) to encourage active assistance of atomic-bomb survivors and withdraw its appeal against a (similar) sentence by the Osaka District Court.
On August 8th, RENGO Local of Nagasaki youth/women members led a Peace Walk guiding RENGO members and their families who came from across the nation to visit Epicenter Park and Peace Park and learn more about the cenotaphs and monuments in those parks. In the afternoon of the same day, the three organizations co-hosted a symposium entitled "Support Activities for Japanese and Overseas
Hibakusha
: Real Conditions and Challenges" which drew approximately 350 participants.
On August 9th, RENGO members from across the country including General Secretary Koga, RENGO Local of Nagasaki President Tetsuo Takaishi attended the Nagasaki City Peace Ceremony and in the evening joined together with others in releasing floating Manto lanterns on the Urakami River and offering their prayers for peace.
Peace Appeal from Nagasaki
Sixty one years ago today – August 9, 1945 11:02 in the morning – we will never forget this day, this time. A single atomic bomb dropped over Nagasaki exploded 503 meters above Matsuyama-machi taking more than 70,000 precious lives in a 7000c degrees heat flash and blast of wind. Even today many
hibakusha
(atomic bomb victims) in and out of Japan still suffer from radiation poisoning its influence even felt by
hibakusha
nisei (second generation) and sansei (third generation). It is reported that as many as 30,000 nuclear bombs still exist on the earth. Again we have set our mind to pursuing activities for the abolition of nuclear weapons so as not to repeat the nuclear bombing disaster.
Despite this on July 5th, North Korea (The Democratic People's Republic of Korea) launched ballistic missiles in blatant disregard of the repeated warnings from the United States and other neighboring countries. North Korea previously announced its withdrawal from the NPT (Nonproliferation Treaty) as well as the fact that it possesses nuclear weapons. Moreover, North Korea's recent actions violated the 2002 Japan-DPRK Pyongyang Declaration which clearly stipulated a moratorium on all missile launches. We must never allow anything that would threaten not only Japanese national security but also stability in Northeast Asia. We strongly urge that North Korea immediately and unconditionally return to the Six-Party Talks and that they suspend all nuclear development and missile launch testing.
Furthermore, such ongoing trends as Iran's suspected nuclear weapons development and the U.S. offering nuclear information to nuclear armed India have all contributed to eroding the foundation of the NPT system. That the U.S. unilaterally demands that other nations reduce their nuclear arms and weapons of mass destruction while the U.S. itself is reluctant and at times even oppositional to the Comprehensive Nuclear Test Ban Treaty (CTBT) and other disarmament and nonproliferation treaties partially explains the background creating such situations. It may be said that the U.S. itself invites factors which rock the global peace and stability.
"No More Nagasaki," "No More Hiroshima" these were the heartfelt cries of every citizen of a nation attacked with atomic bombs who hopes for peace and abolition of nuclear arms. These calls are appeals to the world for the preciousness of peace.
Last year in conjunction with the 60th anniversary of the atomic bombing, RENGO, GENSUIKIN, and KAKKIN conducted a "10 million signature-collecting campaign to demand the abolition of nuclear weapons," a atomic bomb photo exhibition in New York to coincide with the 2005 Review Conference of the Parties to the Nuclear Weapons Non-Proliferation Treaty (NPT), and "joint conventions" in Hiroshima and Nagasaki by the three organizations together for the first time ever.
This year, the three organizations decided to jointly conduct a protest action against subcritical nuclear experiments being pushed by the U.S. and Great Britain in February, a demand activity on the Ministry of Health, Labour and Welfare in July to call for an increase in support of
hibakusha
, and, continuing from last year, the joint hosting of peace conventions in Hiroshima and Nagasaki.
In its efforts to abolish nuclear weapons, ban all nuclear testing, enhance the support of
hibakusha
, and many other issues, the three organizations of RENGO, GENSUIKIN, and KAKKIN will diligently persist with activities in the workplaces and locally, while at the same time developing yet another movement toward détente in Northeast Asia, denuclearization, the global abolition of nuclear arms and the realization of peace together in solidarity with the ICFTU and many other NGOs.
No More Nagasaki! No More Hiroshima! No More
hibakusha
!
August 7, 2006
Abolish Nuclear Weapons 2006 Peace Nagasaki Convention
Special Appeal for the Hiroshima District Court Ruling on the Certification of Atomic Bomb Diseases Lawsuit
On August 4th, the Hiroshima District Court handed down a judgment for all 41 plaintiff demands in a lawsuit seeking recognition for victims of atomic bomb-related illnesses.
This judgment certified that all of the plaintiff's illnesses were caused by atomic-bomb radiation. This overall victory follows the Osaka District Court's ruling on May 13th. Once again we take this opportunity to salute the great efforts made by those plaintiffs and related parties.
We, the three organizations of RENGO, GENSUIKIN, and KAKKIN, herein strongly urge the central government and the Ministry of Health, Labour and Welfare to: take this judgment with the utmost seriousness; not appeal to a higher court but instead immediately improve the ongoing certification system which advances the certification procedure by rote; proactively support assistance to atomic-bomb survivors which includes the plaintiffs of this lawsuit and other applicants for certification; and withdraw their appeal against the Osaka District Court's ruling.
In light of this convention's slogan calling for abolition of nuclear weapons and assistance for atomic-bomb survivors, we declare this as our special appeal.
August 7, 2006
Abolish Nuclear Weapons: 2006 Peace Nagasaki Convention