RENGO requests the Ministry to improve the quality of medical and care services
30 August 2006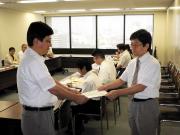 Mr. Shimada, the Chairperson of the Council submits the petition to the Ministry official
On 29 August, RENGO's Medical and Welfare Sectoral Liaison Council requested the Ministry of Health, Labour and Welfare (MHLW) to improve the quality of medical and care services. This was part of activities endorsed by the RENGO 2006 Central Rally held with the participation of 800 medical, care and welfare workers on 12 May in Tokyo. Mr. Shimada, General Secretary of the UI Zensen and the Chairperson of the Council, appealed: "It is a prerequisite to quality services that workers in the sectors are guaranteed adequate working conditions and secured to work proudly and safely." He then handed the demand to Mr. Furuichi, Director of Promotion Division of Health and Welfare Bureau for the Elderly. The demand included 20 items within the following 3 main pillars.
To establish patient-centred medical services by improving the quality of services, securing employment and working conditions and shortening working hours.
To improve the stability of care workers by improving their employment and working conditions, secure attractive and worthwhile workplaces, and manage users- and workers-oriented services.
To ensure that FTAs and EPAs limit migrant workers to those with professional skills on condition that they are harmonised with domestic employment, the national consensus is obtained and they work in decent working conditions equal to those for Japanese workers. Non-skilled foreign workers should not be allowed to enter the country because they would adversely affect the domestic employment situation and working conditions.