Meeting with Japan Association of Corporate Executives
20 September 2006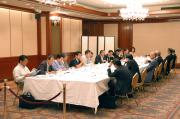 Meeting with Japan Association of Corporate Executives° Keizai Doyukai°ň
RENGO held a meeting with the Japan Association of Corporate Executives (Keizai Doyukai) on September 19th in Tokyo to exchange opinions on the following themes: "Japanese Society in the Future and Expectation for the New Government" and "Current Situation and Problems on Labor Market and Employment Environment."
RENGO President Takagi criticized the tone of such recent arguments that claim "if the role of government is cut back then the market will expand" and "generating disparity is unavoidable for the sake of growth" and he stressed that we should work for administrative and financial reform as well as public servant system reform, not from a dualistic "big government/small government" point of view but in order to attain an "efficient and effective government." President Takagi proposed to the Keizai Doyukai that "Japanese corporate culture is the principal offender in creating social disparity. We hope to establish a forum between labor and management to discuss specific measures for 'the second challenge' and to assure their effectiveness, as well as to promote discussion on safety and security issues."
Keizai Doyukai Chairman Kakutaro Kitashiro responded by saying "we basically do not find much difference between our way of thinking and that of (RENGO's) opinions on social disparity and 'small government.' However, we do feel that we should discuss competitiveness and government efficiency from a global point of view." He continued, "A society where the same results are gained without effort is a lethargic one. We want to find a social structure based on self-reliance and self-responsibility."
In addition, RENGO asked the Keizai Doyukai to work to establish job stability and to increase the number of regular employees and also called for both sides to cooperate to create a structure and a climate in which to establish Work/Life Balance. In response, the Keizai Doyukai stated that "it is important to create jobs by expanding business activities and economic growth through deregulation and stimulating free competition" and "trying to resolve Work/Life Balance issues by paying premium wages saps corporate energy. The issue should be solved in the direction of human resources will flow to a place where balance can be maintained."