National Action for International Women's Day held
09 March 2007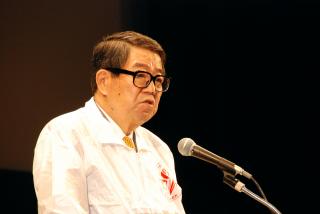 RENGO President Takagi makes a speech (March 8, Yomiuri Hall)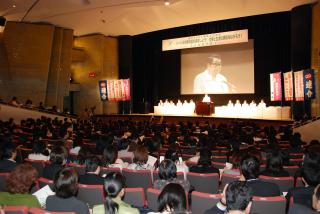 Participants at the Central Rally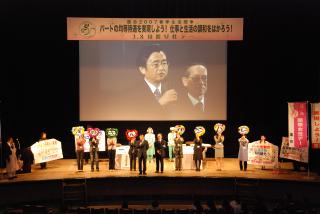 Former Miyagi Governor Asano at the Rally
RENGO marked International Women's Day on March 8 with nationwide forums and street events on gender equality and other themes related to women.
In Tokyo, the 'National Action for International Women's Day Central Rally' was held and about 900 trade unionists participated. RENGO President Takagi said in his speech: "The cause of the widening gap in our society is the discrepancies in the way workers are employed and the corresponding discrepancies in wages. Correcting these discrepancies in the treatment of workers will help to close the wealth gaps. So let's use this rally as an opportunity to make sure that all unions negotiate with management to improve treatment of part-time and other non-permanent workers in our workplaces. If there are part-time workers who have not yet joined the union, let's invite them to participate."
Mr. Takagi also commented on the Part-time Work Law reform bill which has been submitted to parliament. "The scope of antidiscrimination for 'short-term employees' is very limited" and "'equal pay for equal work' is only something management is obliged to 'make efforts to achieve,' and is therefore unlikely to actually eventuate" he pointed out. Mr. Takagi pledged to strengthen demands in parliament for reforms that can be put into practice and actually achieved.
Next Momoyo Kamo, President of the Japan Community Union Federation and member of the governmental Equal Employment Sub-Committee explained the discussion which has taken place in the Sub-Committee on the review of the Part-time Work Law and an outline of the proposed reform bill. "In order to achieve equal treatment, it is necessary to make 'equal pay for equal work' a reality and the issue we face is how to create workplace standards that can actually measure this. We must also rethink the present comparative standard, which is if permanent employees, whether the work pattern of permanent employees allows a reasonable work/life balance," commented Ms. Kamo.
Representatives from affiliated unions and workplaces introduced the measures and approaches they were taking to achieve equal treatment for part-time workers and better balance between work and home. This was followed by adoption of Rally Slogans such as: 'Legislate to achieve equal treatment for part-time and limited-term contract employees.'
Shiro Asano, former Governor of Miyagi Prefecture, who is planning to stand for Governor of Tokyo in the upcoming election, also attended the Rally, saying that he wants to make Tokyo a city where "all women, in fact all people, can feel energetic and motivated."
Before the Central Rally commenced, about 100 RENGO union members handed out roses as a symbol of women's human rights and respect for women, near the Marion Building, a popular meeting place in the Yurakucho district of Tokyo. As they gave roses to passers-by in the busy streets, they also appealed for equal treatment for part-time workers and better work/life balance.
Appeal
The history of Women's Day on March 8 began 150 years ago. It is said that on this day in 1857, women working in a clothing factory in New York began protest activities against their low pay and long working hours. Also on March 8, 1903 the 'Bread and Roses' movement started to demand better pay, shorter working hours and the right to vote. From these activities, March 8 became known as the day to commemorate the fight for women's political freedom and equality. Now events and actions are held all around the world with 'bread' symbolizing better pay and working conditions and 'roses' symbolizing respect for women and human rights.
RENGO has also included nationwide Women's Day activities as part of the Shunto Spring Campaign since 1996. Today in the Yurakucho district of Tokyo we appealed to working women as well as many other citizens for 'Equal treatment for part-time workers' and 'Work/Life Balance,' which are 2 of RENGO's main demands in this year's Shunto Campaign.
The government is finally reviewing the 'Part-time Work Law' and is submitting the first reform bill to this law since 1993 to the 166th regular Diet session. The Part-time Work Law in its present state is totally ineffective in reducing the growing polarization between part-time and permanent employees, as it only requires employers to 'make efforts' to balance this situation. If we are to actually achieve equality for all people who work, it is necessary to introduce legislation forbidding management from discriminating against part-time workers. Now is the time to legislate for 'equal treatment' for all part-time and limited-term contract workers
The 'polarization of working patterns,' where work hours have been increasing to extreme levels on one hand and on the other, unstable, short-term employment patterns are also increasing, is a major cause of disruption to work/life balance. Especially for male permanent employees, long work hours have become so extreme that it is basically impossible for them to take part in community activities, housework or child-rearing. If women and men are to achieve an appropriate balance between life and work, it is essential to review work standards and introduce necessary systems and adjustments to relevant environments.
From April 1st, amendments to the Equal Employment Opportunity Law will take effect, including an expanded scope of the ban on discrimination, forbidding disadvantageous treatment due to pregnancy or childbirth, measures to deal with sexual harassment of both men and women and banning of indirect discrimination. Let's make sure this new legislation takes firm root in the workplace by strengthening our checking and inspection activities and making every effort to improve the system.
All women who participated in this rally, each and every one of us, are the ones who will show our strength in efforts from now on. In reconfirming the significance of International Women's Day, let's think, act and share ideas and issues with our workmates so we can drive activities forward for a better future.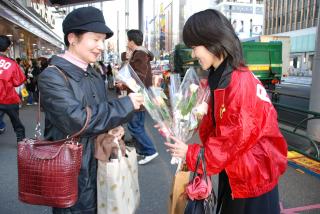 RENGO member hands out roses (near Marion in Yurakucho district of Tokyo)