2009 Spring Struggle amid the harsher employment situation.
12 March 2009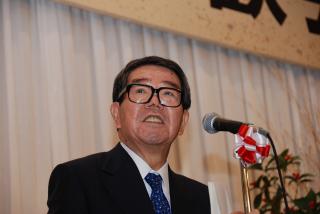 President TAKAGI greeting at the RENGO New Year gathering on 5 Jan.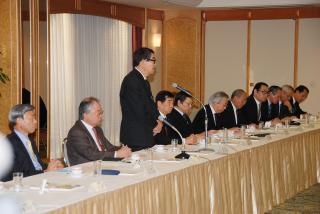 Representatives of RENGO at the meeting with Keidanren on 15 Jan.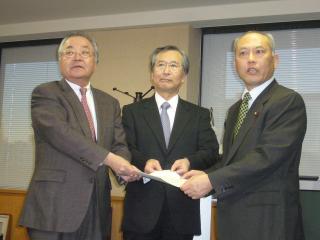 GS KOGA (left) and Keidanren submit the Joint Declaration to Minister MASUZOE (right) on 15 Jan.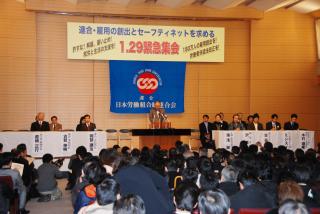 Rally calling for job creation and safety nets on 29 Jan.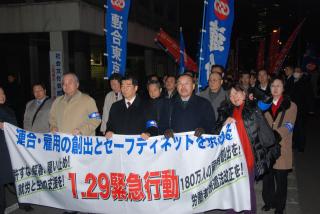 Demonstration March on 29 Jan.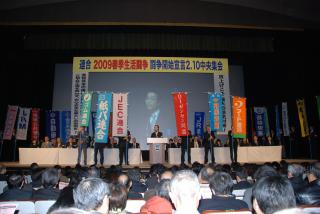 Central Rally on 10 Feb.
In addition, RENGO revealed the
RENGO's Plan for Creating 1.8 Million Jobs
mainly in the sectors of nursing care, medical service, energy, and agriculture. This plan is expected to improve the unemployment rate of nearly 3 percent.
On the same day, RENGO visited Minister of Health, Labor and Welfare, MASUZOE to submit the Joint Declaration and RENGO's job creation plans.
The employment situation in Japan has been worsening since last year due to the global financial crisis.
In the New Year Appeal by President TAKAGI on 5 January, 2009, he expressed concern about mounting employment crisis, especially for unorganized non-regular workers. So, "Now it is the time for the trade union to be asked the significance of its existence. Let us show the strength of trade union movement with visible actions and concrete achievements", he said.
On 15 January, RENGO held the top level meeting with Nippon Keidanren (Japan Business Federation) in Tokyo to discuss about a variety of labor-management issues, which substantially kicked off the annual wage negotiations.
At the outset, RENGO President TAKAGI demanded for a raise in the basic pay-scale for the first time in the last 8 years, stating that it is a key for economic recovery to stimulate personal consumption by raising wages in the midst of serious crises for workers: deteriorating employment situation, rising consumer prices, expanding the gap between the poor and the rich, and insufficient safety nets. In response, Keidanren Chair MITARAI represented his view that a number of Japanese companies were facing extremely difficulties in pay rises. Furthermore, the business group downgraded job security from a "top priority objective" to a "target to read".
Though the talks on wages ended up without any progress, RENGO and Keidanren shared the same recognition that we must tackle together against the currently harsh economic and employment situations. As a result, the Labor-Management Joint Declaration for Job Security and Job Creation as well as the Employment Measures the Government should Take was issued.

On 29 January, RENGO organized the Rally calling for job creation and safety nets in Tokyo. Nearly 600 union members attended. Mr. Makoto YUASA, the General Secretary of Anti-Poverty Campaign which helps homeless people, unstable non-regular workers and the poor, and Mr. Ryuji SAWA , the leader of traveling theatrical troupe which has proactively been recruiting from the dismissed non-regular workers due to the global financial crisis, gave us solidarity message. On behalf of union members, representatives from FWUBC (Federation of Workers' Union of the Burmese Citizen in Japan), RENGO-UNION TOKYO and RENGO-UNION KUMAMOTO (a southern prefecture of Japan) gave their presentations on the current employment situation they were facing. Afterwards, the attendees made a demonstration march toward the Diet building.
On 10 February, RENGO held its Central Rally to achieve the demand of the 2009 Spring Struggle at Hibiya Public Hall with over 2,300 members in attendance.
In opening, RENGO Acting President OKABE said: "Under the ongoing rise in consumer prices, workers' wages have been declining virtually. Raising wages is the most effective measure to stimulate the Japanese economy, which leads to economic growth led by domestic demand. This year, we RENGO call for job security as well as wages. Let's do our best for this Spring Struggle!"
Following the opening, each representative from five Joint Struggle Committees for Spring Struggle in RENGO: (1)Metal, (2)Chemical, Food and Manufacturing, (3)Distributive, Service and Finance Industries, (4)Infrastructure and Public services, (5)Traffic and Transportation industries, issued its appeal respectively.
In closing, RENGO General Secretary KOGA on behalf of members expressed RENGO's determination to fight for the Spring Struggle, and the rally adopted the Spring Struggle Kick-off Declaration.
Major automaker unions submitted their demands to management
on 18 February
.This means that annual Spring Wage Negotiations started.
By 18 March
,most unions of major corporations are scheduled to receive their first responses from management.