Correction of disparity and fair society through a paradigm shift!
Policy Agreement Concluded with DPJ
16 July 2009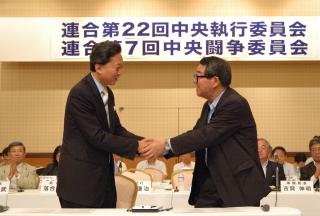 RENGO and Democratic Party of Japan concluded their policy agreement for the House of Representatives election at the Central Executive Committee Meeting on July 16.
The agreement is about the commitment of 9 key policies including shift to domestic demand-driven economic system, correction of disparity and maintenance of employment safety net though working styles, establishment of social security system on which people can live securely, to implement correction of disparity and fair society through a paradigm shift.
Policies of "implementation of RENGO's Plan for Creating 1.8 Million Jobs" and "enhancement of supervision and regulation of international financial and capital markets" are newly incorporated, in the light of drastic change of social and economic situation after "manifesto for building society in which we all live together" was concluded in 2006. (at the time of DPJ President Ichiro Ozawa)
RENGO President, Takagi and President DPJ, Hatoyama participated in the signing ceremony.
President of DPJ, Hatoyama said "I would like to thank you for all your help to score the landslide victory of DPJ at Tokyo metropolitan assembly election. To implement a changing power is my mission. DPJ will make every effort to implement key policies of agreement as the ruling political party. As DPJ tries its best to be driving force to launch new policy and world, RENGO's more efforts would be greatly appreciated."
RENGO President, Takagi said "many voters showed their anxiety, distrust, anger to the government at Shizuoka prefectural governor and Tokyo metropolitan assembly election. I hope Democratic Party, Social Democratic Party and the People's New Party would unite their strength to face the House of Representatives election battle and to achieve the a changing power, and President Hatoyama would strive hard to win the election."