RENGO Hands over Contributions to Three Most Disaster-Stricken Prefectures
20 July 2011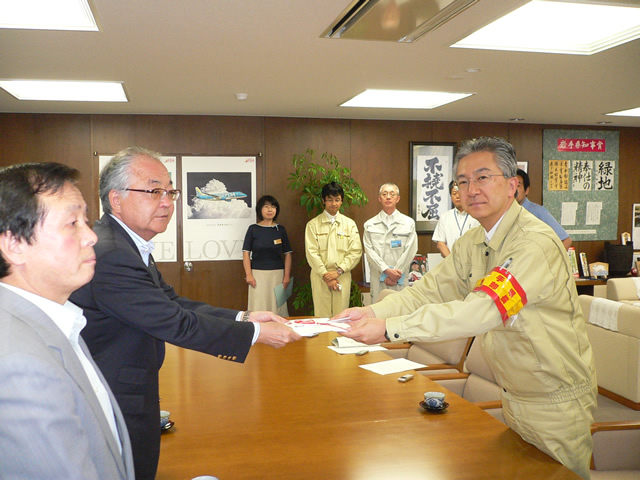 Iwate Governor Tasso (right) and RENGO President Koga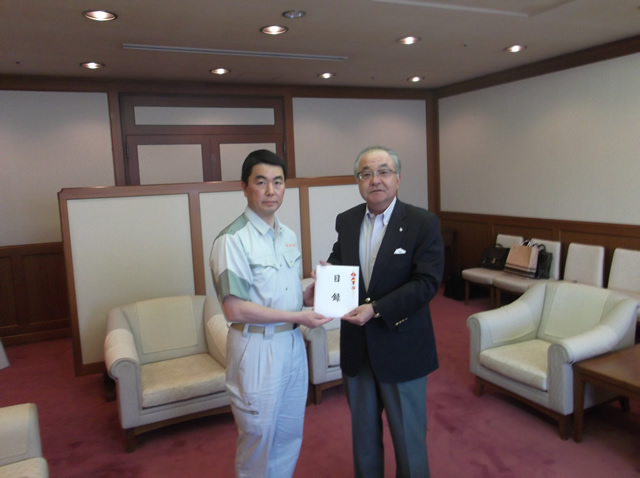 Miyagi Governor Murai (left) and RENGO President Koga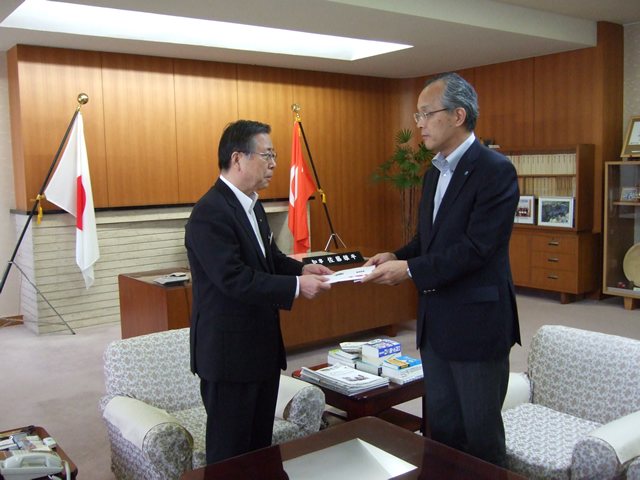 Fukushima Governor Sato (left) and RENGO GS Nagumo
RENGO President Nobuaki Koga and General Secretary Hiroyuki Nagumo visited three prefectural government offices of the most disaster-stricken prefectures of Iwate, Miyagi and Fukushima from 20 June to 4 July and handed over 200 million yen contribution to each governor for the support of the livelihood of the sufferers.
In the meeting with Iwate Prefectural Governor Takuya Tasso, President Koga told that it would be appreciated if the contribution would be used for the livelihood reconstruction of the sufferers. The governor replied with thanks that the sufferers have just gotten under way towards their livelihood reconstruction and the contribution would be very helpful for them. He then reported about how the sufferers were tackling their livelihood reconstruction.
In Miyagi prefecture, Governor Yoshihiro Murai expressed his appreciation for the contribution and explained how the restoration and reconstruction works were going on, saying that in each disaster-stricken area the removal of rubbles was continued and it would take about three years more to be completed. He also expressed his great thanks for RENGO volunteer activities. RENGO President Koga told that the reconstruction of the disaster-stricken areas was expected to be linked to the resuscitation of Japan. Governor Murai reassuringly responded that such a bitter trial ought to be a foundation of great development and, in this sense, his prefecture would like to be a new model of Japan.
Governor Yuhei Sato of Fukushima Prefecture expressed his appreciation, saying that the good will of RENGO would be delivered to the sufferers.
Since the Great East Japan Earthquake occurred on 11 March, RENGO has conducted rescue fund-raising campaigns. To this "RENGO Disaster Rescue Campaign", very valuable contributions of about 730 million yen as of today have been donated from both inside and outside of Japan. RENGO decided, at its 22nd Central Executive Committee meeting on 16 June, to hand over 200 million yen to the most disaster-stricken prefectures of Iwate, Miyagi and Fukushima respectively and 20 million yen to Ibaraki Prefecture and Chiba Prefecture respectively.
RENGO would like to express its sincere thanks once again to individuals and organizations both inside and outside of Japan, RENGO affiliates and locals and others for their kind cooperation to the RENGO disaster rescue campaign.