Message by RENGO President on Passing of Former South African President Nelson Mandela
06 December 2013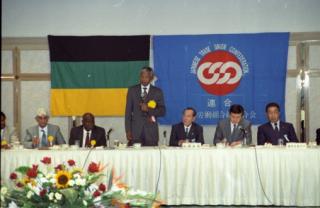 On 6 December 2013, Former South African President Nelson Mandela, the greatest and most courageous leader of the modern times, passed away. RENGO, representing its 6.75 million members and all working men and women in Japan, extends our deepest condolences to Nelson Mandela's family and the South African people.
He devoted all his life to the fight to end apartheid and bring social democracy and social justice to the people of South Africa. His indomitable determination encouraged people not in South Africa but in all over the world.
RENGO was privileged to continuously support him and African National Congress (ANC) in fighting against apartheid. In October 1990, when he visited Japan after the release from prison, as the Government of Japan turned down the request for support by the ANC, RENGO presented the petition to the Diet with 1 million 400 thousand signatures applying for the end of apartheid. RENGO also organized the fund-raising campaign and the first RENGO President Akira Yamagishi handed to Mandela 150 thousand USD, expressing the sense of solidarity and pledging to join his fight.
During the 1994 South African general election which was the first election participated by all kinds of the people in South Africa, RENGO joined the election monitoring team of the International Confederation of Free Trade Unions (ICFTU). As the result of the election, Mandela gained the Presidency of the country, which gave to us the greatest hope. In his inauguration ceremony, RENGO was represented by the then General Secretary Etsuya Washio.
His longing for non-discriminatory democracy and untiring efforts was a compass for our movement. RENGO pledges to hand over his unyielding spirit and high faith to next generations forever.
6 December, 2013
Nobuaki KOGA
President
RENGO - Japanese Trade Union Confederation