JTUC-RENGO held the 15th Biennial Convention on 4-5 October 2017
11 October 2017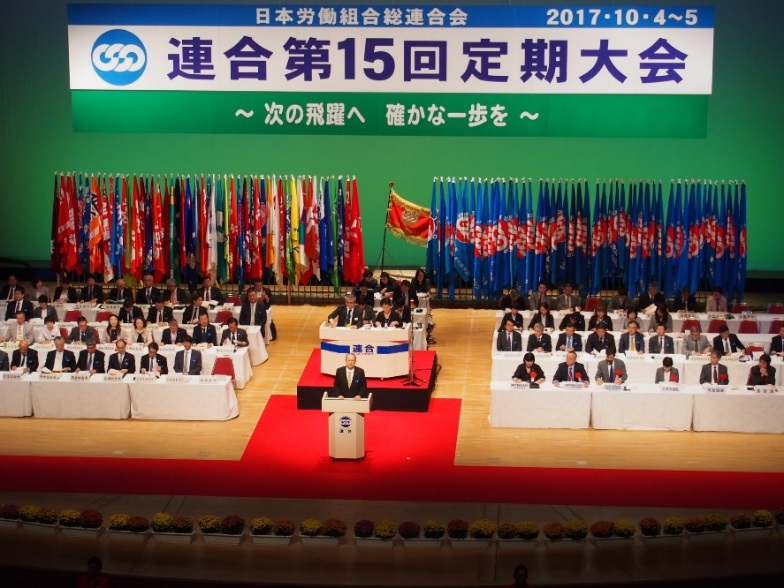 JTUC-RENGO 15th Biennial Convention
JTUC-RENGO held the 15th Biennial Convention on 4-5 October 2017, with the slogan – A Significant Step toward the Next Stage.
Action policies for next 2 years were confirmed and new leaderships were elected in the convention with the attendance of 1600 members including observers.

From International Organizations, Sister Sharan Burrow (General Secretary, International Trade Union Confederation(ITUC)), Brother Shoya Yoshida (General Secretary, ITUC -Asia Pacific (ITUC-AP)), Brother Pierre Habbard (Acting General Secretary, OECD Trade Union Advisory Committee(OECD-TUAC)), and 38 representatives from 28 organizations participated in convention.
And a video message from Brother Guy Ryder (ILO Director-General) was showed in the convention.
President Rikio Kozu refered in his remarks the dissolution of the House of Representative of Japan. "This dissolution is nothing but unreasonable and extremely selfish decision. The bills to be taken into the national Diet are just thrown away which sets a legal overtime cap with penal regulation to rectify long working hours, and corrective actions to eliminate unreasonable disparities in type of employment. There is no justification to leave those important issues which are directly related to all working people", Kozu said. "Under this political circumstance, it is deeply deplorable and disappointing that the guideline for revision of the Labor Standards Act contains even opposite proposals with our thoughts. We will do our utmost toward the victory of all candidates in and recommended by RENGO so that we can deliver our policies and guide it properly", Kozu called for solidarity.
Confirmed action policies 2018-2019 includes;
-making the next 2 years a period to take a step toward the next-generation movement by promoting "organizational reinforcement", using the entire RENGO organization to foster social solidarity so that the goal of "RENGO with 10 million members" is achieved in the next 3 years,
-supporting for non-regular workers, non-unionized workers, and young workers, and enhancing approaches through establishment of labor consultation center,
-raising and promotion of horizontal expansion of minimum working conditions, and realization of decent work.
Elected new leaderships are;
President - Rikio KOZU (KIKAN ROREN), Deputy President - Naoto OHMI (UA ZENSEN), and Atsushi KAWAMOTO (JICHIRO), General Secretary - Yasunobu AIHARA (JIDOSHA SOREN), 13 vice presidents, 5 Assistant General Secretary, 34 members of Executive Committee, and 4 treasurers. (60 in total)
After election, president Kozu expressed determination strongly in his speech that "our trade union movement stands and even have been evolved and succeeded to next generation beyond the time, with the relationships of mutual trust. This is our strength. We are now at the starting point of our new period with strong solidarity, for all working people".
Confirming with World Day for Decent Work of ITUC (7 October), all the convention participants were gotten involved in Decent Work Action, calling "Decent Work for All!".

At the end, Convention Declaration was adapted with unanimity, which starts with "RENGO will celebrate 30th anniversary of our foundation in 2019. We must make the next 2 years a period in which we firmly solidify our foundations to powerfully open up the RENGO union movement in the next era before that milestone"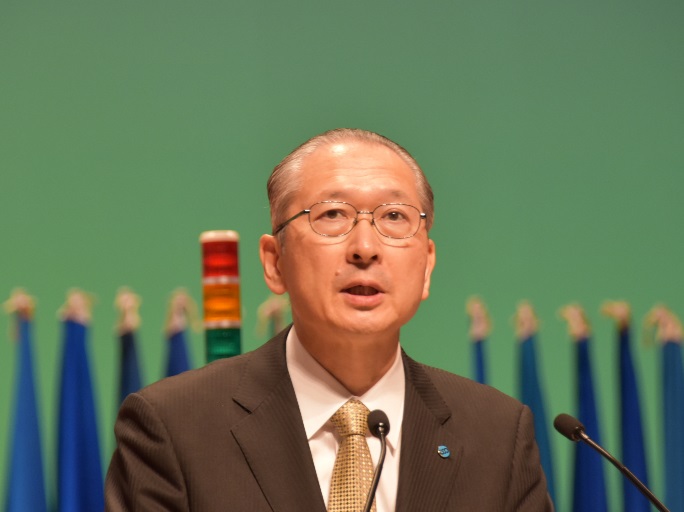 President: Rikio KOZU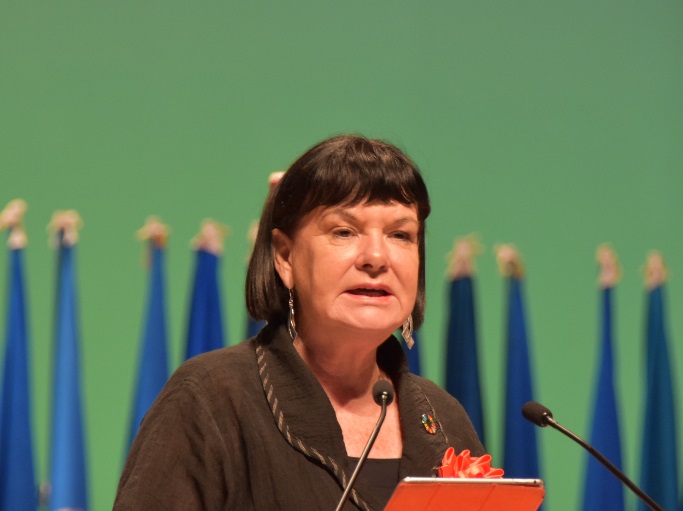 General Secretary, ITUC: Sharan Burrow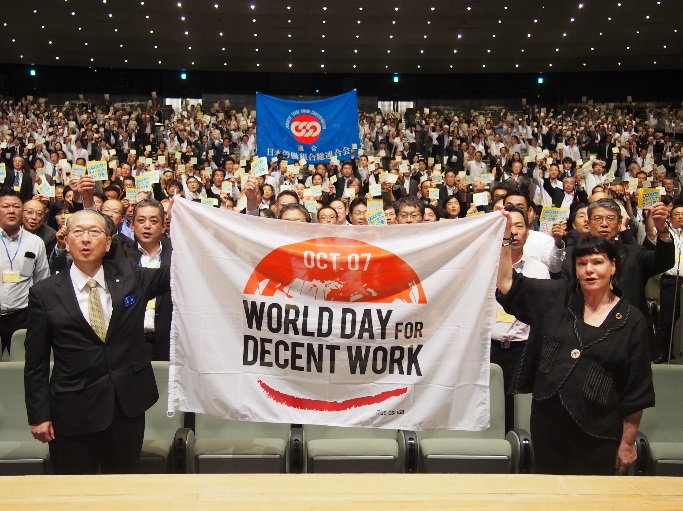 "Decent Work for All!"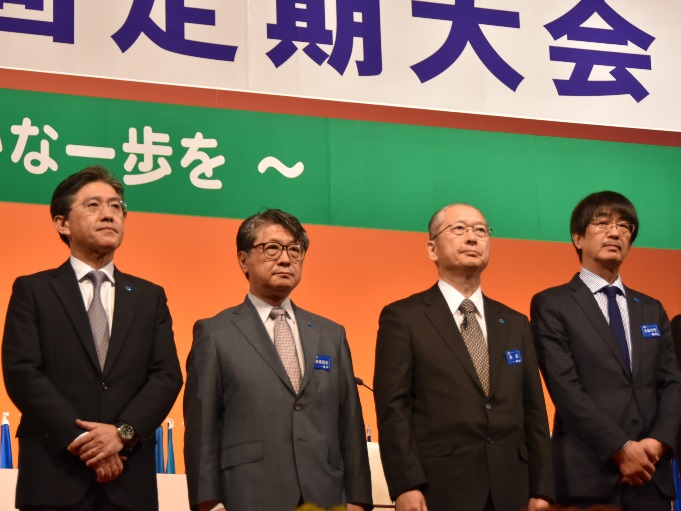 New Leaders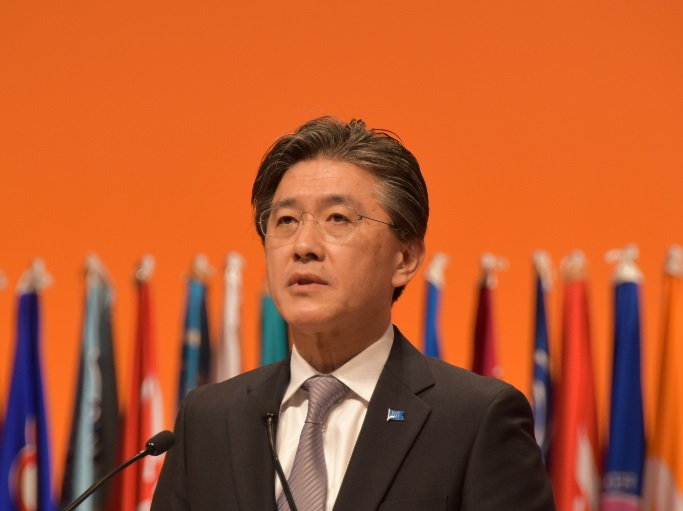 New General Secretary: Yasunobu AIHARA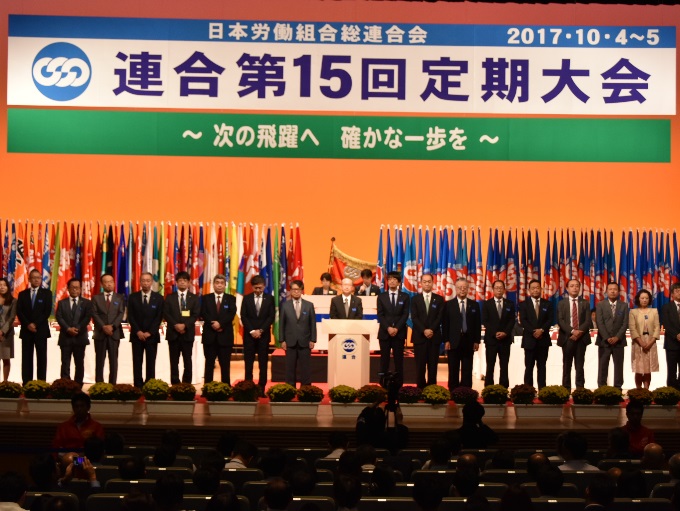 New Leaderships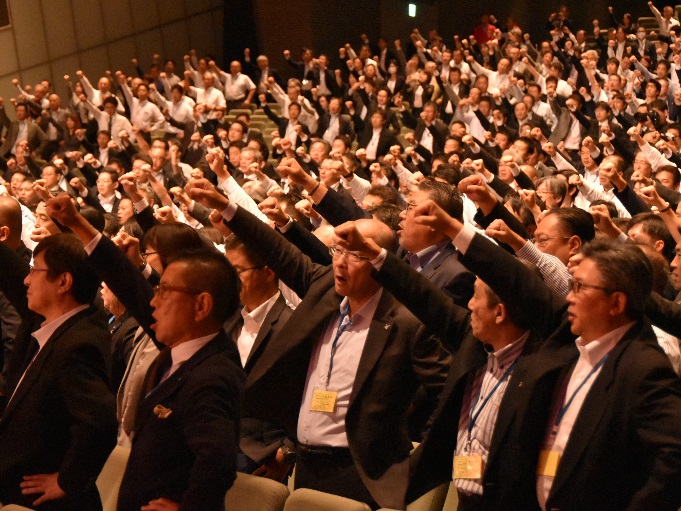 "Ganbaro" Cheers for Solidarity