JTUC-RENGO held the 17th Biennial Convention on 6 October 2021,"A New Challenge for a Secure Society –'Always at your side' with all working colleagues"
06 October 2021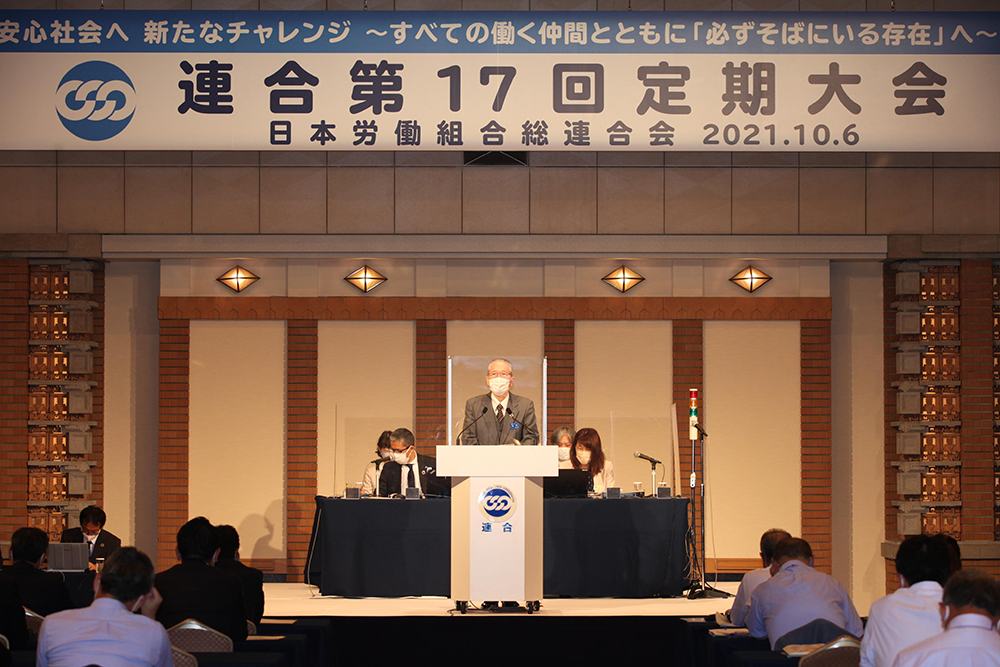 JTUC-RENGO 17th Biennial Convention
A New Challenge for a Secure Society –'Always at your side' with all working colleagues
With the slogan of "A New Challenge for a Secure Society-'Always at your side' with all working colleagues," JTUC-RENGO held its 17th Biennial Convention in Tokyo (in combination with web) on October 6. In addition to confirming our Action Policies over the coming two years, we elected new officials.
In his initial greeting, President Kozu declared, "The corona crisis has revealed how weak our country's social safety net is. The more vulnerable a position a person is in, the more severely they have been impacted by it. We must overcome the corona crisis, and while adapting to uncertain future changes in the environment, we must tie this together with efforts towards a society with gender equality, human rights and respect for the diversity of each individual, in which everyone can have hope in the future, and a society centered around the community, in which mutual support and mutual aid have taken root in daily life." On the other hand, he stated, "What is required of us is to face the current state of the corona crisis directly from the ground up as a problem of our own selves, and construct a new style of labour movement for the New Normal era. RENGO is required to become a presence 'always at your side' with all working colleagues." Having previously announced his retirement this term, President Kozu called upon all to join forces, saying, "I pray from my heart that everyone who has gathered at JTUC-RENGO will unite your thoughts to support the new leadership and achieve happiness for all working colleagues."
Addresses from guest speakers were given by Minister of Health, Labour and Welfare Shigeyuki Goto, General Secretary Sharan Burrow of the International Trade Union Confederation (ITUC) and Director-General Guy Ryder of the International Labour Organisation (ILO), who spoke via video messages from the perspective of preventing the spread of COVID-19, In addition, messages were heard from Yukio Edano, representing the Constitutional Democratic Party of Japan and Yuichiro Tamaki, representing the Democratic Party for the People.
Included among the newly reconfirmed "2022-2023 Fiscal Year Action Policies" are first, under the current situation of the RENGO Movement, facing issues dating from before the corona crisis and directly confronting issues brought into sharp relief; and second, as key to the RENGO Movement of the 17th term, working towards creating a new action style and to promote the three-term six-year "reformation package" listed among the 16th term's Action Policies, "pursuing collective labour-management relations to protect and connecting all working colleagues and promotion of a movement spreading widely through society," along with "promoting a movement to protect and create a reassuring society with decent work" and "realising a workplace and society where true diversity has taken root, in which each individual is valued, achieving gender equality among other considerations" as well as others.
The new leadership includes President Tomoko Yoshino (JAM), Deputy President Akihiko Matsuura (UA ZENSEN), Deputy President Atsushi Kawamoto (JICHIRO), and General Secretary Hideyuki Shimizu (NIKKYOSO) to start with, with 13 vice presidents, 6 assistant general secretaries, 35 Central Executive Committee members and four auditors, for a total of 62 persons elected.
In her inaugural address, newly elected President Yoshino expressed determination, saying, "The environment around us has a multitude of issues. RENGO draws close to us all where we work, finding ourselves at a crossroads over how to conduct union activities now during the corona crisis, and over how we can create an environment in which everyone can continue to work with reassurance. Even while it is extremely difficult to make efforts face to face, I wish to promote a RENGO Movement that will listen well to even one more individual's point of view."
Finally, the words "We will protect the employment and livelihoods of all working colleagues and demonstrate the role of trade unions to the utmost" were adopted unanimously as the Convention's declaration, and the Convention closed.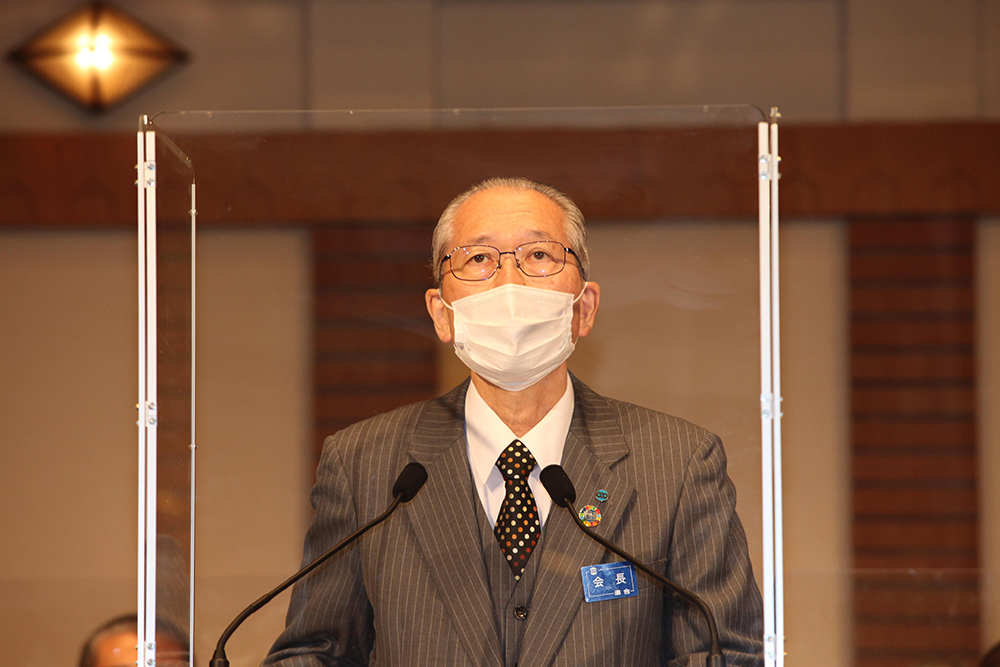 President, JTUC-RENGO: Rikio KOZU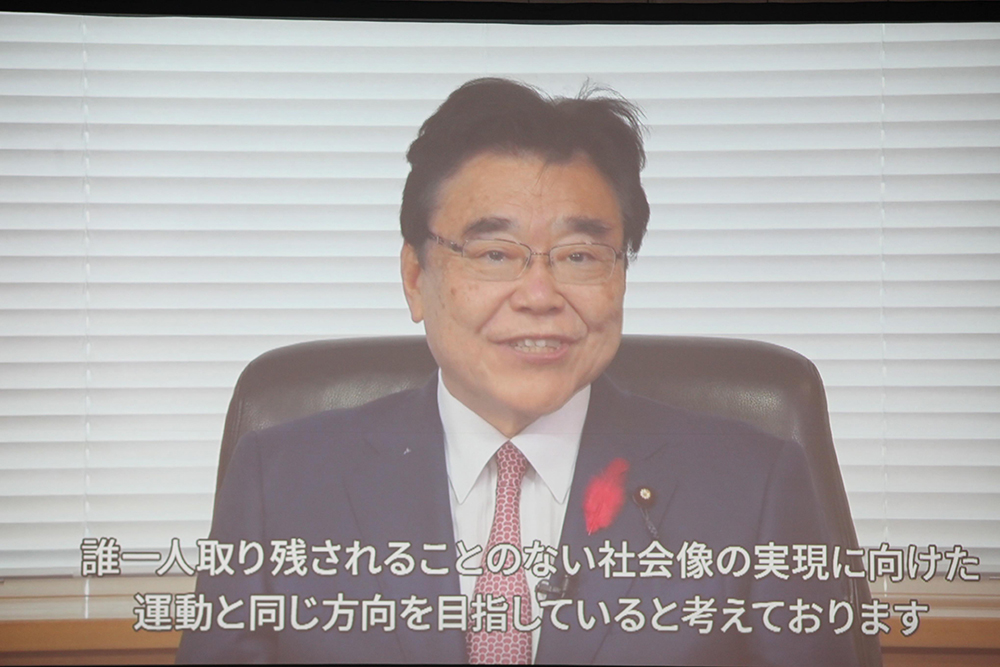 Minister of Health, Labour and Welfare: Shigeyuki GOTO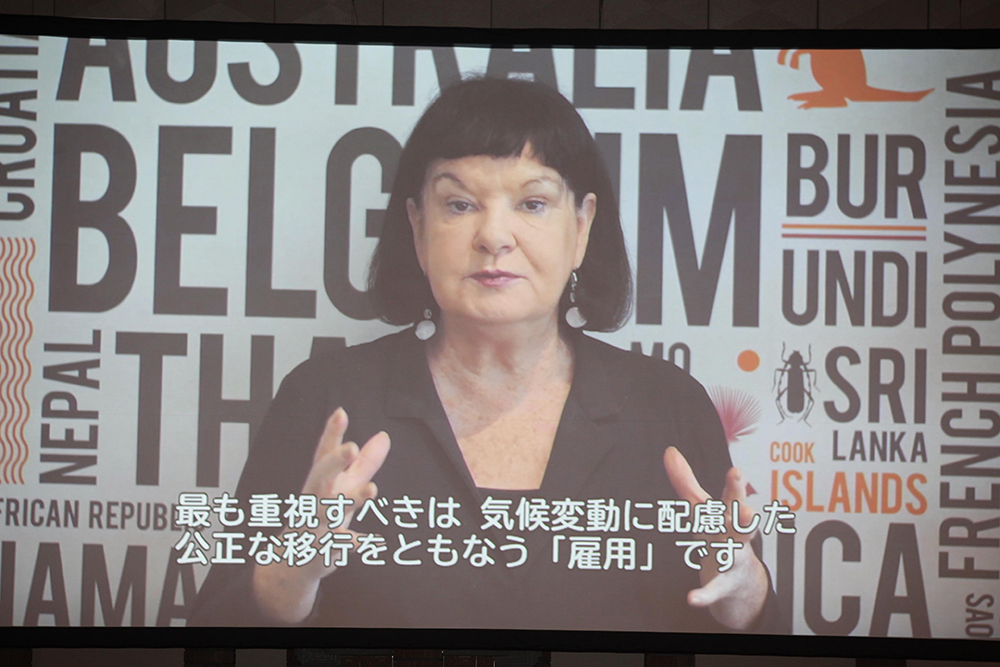 General Secretary, ITUC: Sharan BURROW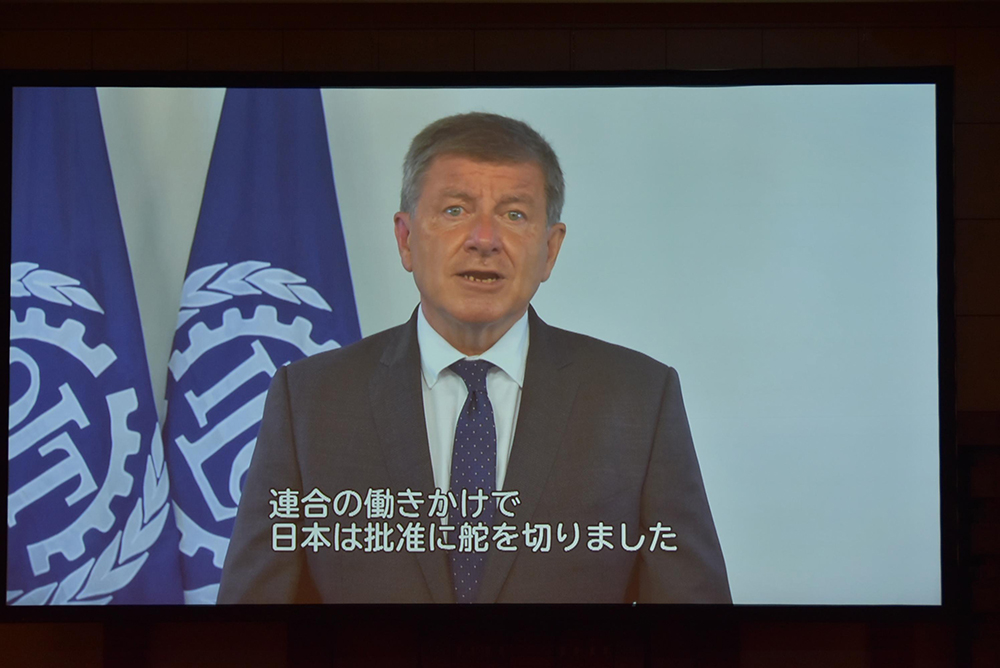 Director-General, ILO: Guy RYDER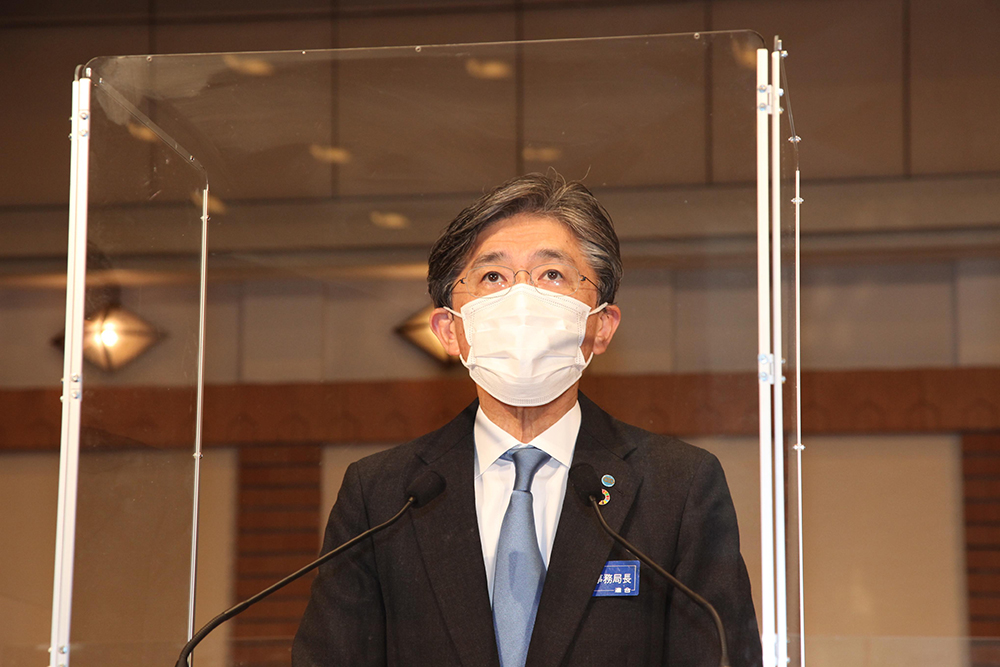 General Secretary, RENGO: Yasunobu AIHARA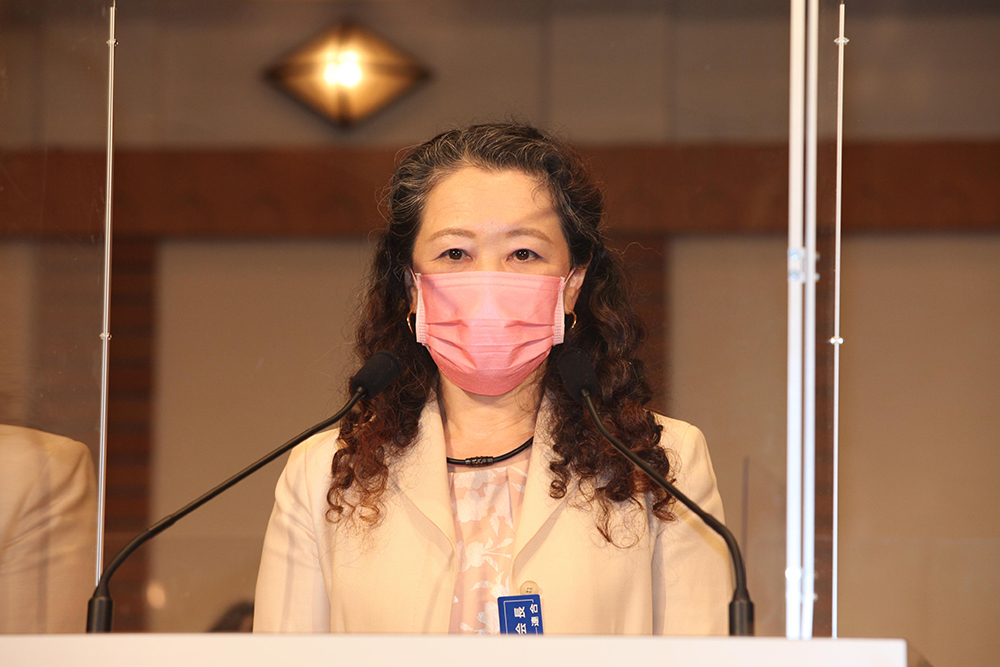 Newly elected President, RENGO: Tomoko YOSHINO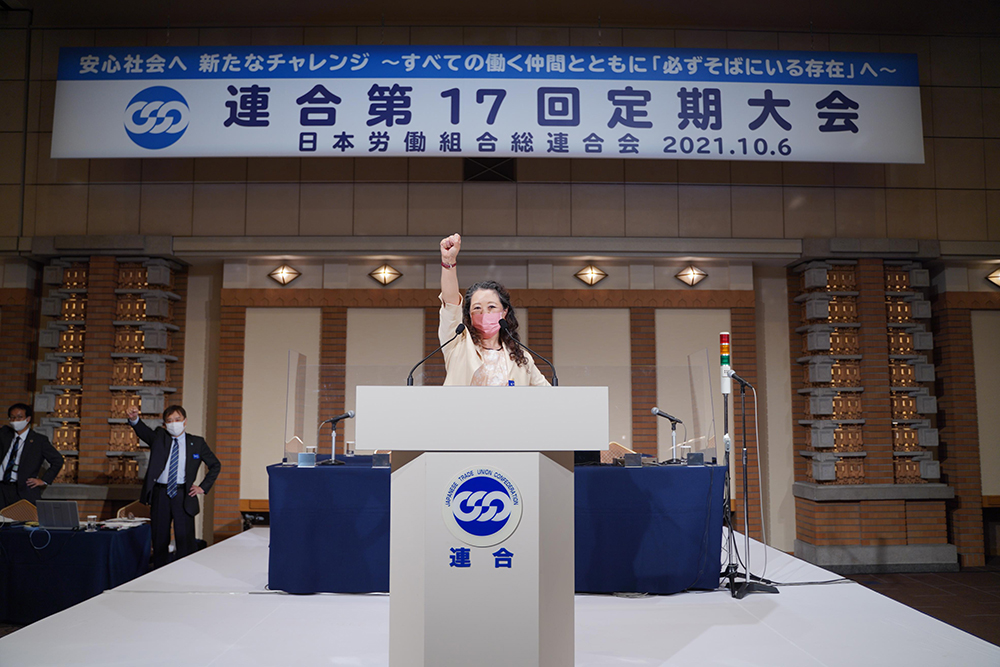 Solidarity!