2005 New Year Reception Held
May This be a Fulfilling Year
12 January 2005
On January 5th, RENGO held its New Year reception party at a hotel in Tokyo. President Sasamori gave an opening speech in which he said, "For the last several years we have continued our movement to get answers by our own power. We are now starting to see results of those efforts and we can now sense a response in the recovery and revitalization of the labor movement. Let us continue to combine our efforts and let's make this a fulfilling year." 1300 people gathered at the venue from the labor, political and business circles as well as NPOs, which included Minister of Health, Labour and Welfare Otsuji, Nippon Keidanren (Japan Business Federation) Vice Chairman Nishimuro, Democratic Party of Japan President Okada, Social Democratic Party Leader Fukushima, Liberal Democratic Party Secretary General Takebe, and New Komeito Party Chief Representative Kanzaki.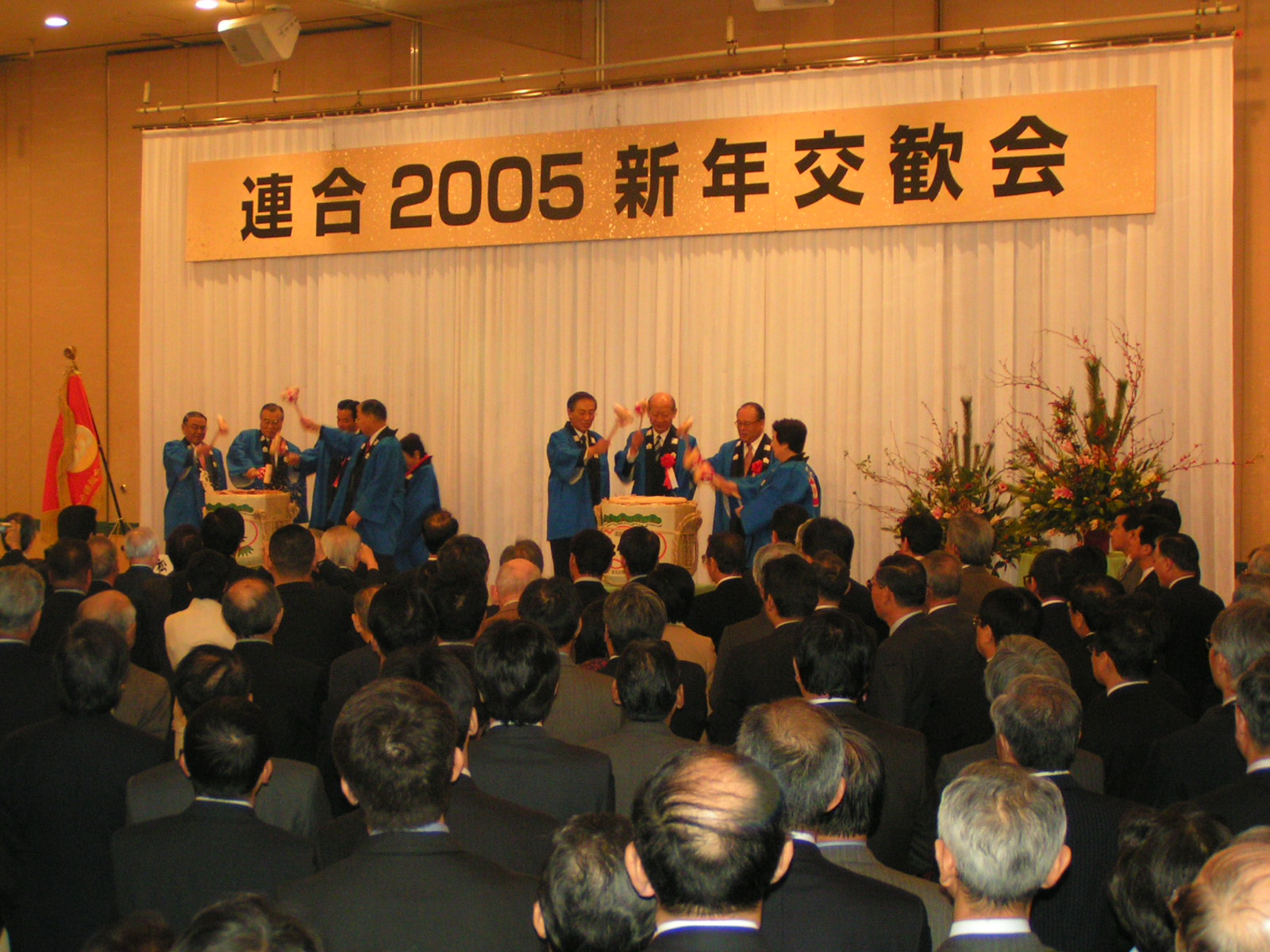 Photo: RENGO officials, political and business leaders performing the Kagamiwari ceremony (the breaking of a traditional sake barrel). (January 5, Tokyo)
In his speech, RENGO President Sasamori proposed seven S's (from the
S
in President
S
asamori) and seven K's (from the
K
in General Secretary
K
usano); two from each category are interlocking issues.
The S's stand for "Fundamental Reform of the Social [or
shakai
in Japanese] Security System," "Spring [
shunki
] Struggle Reform," "Improvement of Unemployment [
shitsugyo
] Rate," "Reviving Unionization Rate [
sosiki-ritsu
] and "Responses to Politics [
seiji
]."
The K's stand for "Constitution [
kenpo
]," "Education [
kyoiku
]," "Environment [
kankyo
]," "Public Servant [
komuin
] System Reform," and "Recovery of Economics [
keizai
]."
As for the interlocking S and K issues, Sasamori proposed "Recovery [
saisei
] and Revitalization [
kasseika
] of the Labor Movement" and "Responses to Fewer Children [
shoshi
] in an Aging [
korei
] Society." Sasamori said "if all the top leaders will work on these issues seriously, then Japan will be transformed into a nation where its citizens can live happily at ease." He also expressed his belief that we ought to carry on so that we will be able to say that 2005 was a fulfilling year when it is over.
Health, Labour and Welfare Minister Otsuji offered his congratulations for the success of the ICFTU World Congress in Miyazaki and expressed his gratitude for President Sasamori's commitment to the issues surrounding social security. Otsuji also stated that "although we face a mountain of issues such as unemployment, we will wrestle with them with all of our might." From the business world, Nippon Keidanren Vice Chairman Nishimuro greeted attendees and extended his congratulations on the success of the ICFTU World Congress. He spoke on the necessity for fundamental social security system reform saying that "keeping in mind the question of where the greatest happiness for all of our citizens is we in the business world will work together with the trade unions in order to sustain the economy. Walking in step with the trade unions we will solidly build a new Japan asking labor whenever we need cooperation between labor and management." Furthermore, a message was delivered from Prime Minister Koizumi, who was unable to attend, and read on his behalf to the attendees.