Symposium on Large-Scale Disaster Measures Held in Kobe
10th Anniversary of Great Hanshin-Awaji Earthquake
25 January 2005
What should we learn from the experience of the Great Hanshin-Awaji Earthquake (Kobe Earthquake), how should we pass that knowledge along, and how should we best prepare ourselves in the future? On January 15, on the occasion of 10 years since the disaster, RENGO held the "Great Hanshin-Awaji Earthquake 10th Anniversary: Symposium on Large-Scale Disaster Measures" at Kobe International Exhibition Hall in the Kobe Convention Complex with 1400 attendees from across the nation in order to reconsider disasters and how relief/ restoration assistance should be handled. Attendees pledged to continue ahead with activities that utilize the effectiveness of RENGO organizational volunteers and at the same time shared their thoughts that it is important to build a system of "mutual assistance."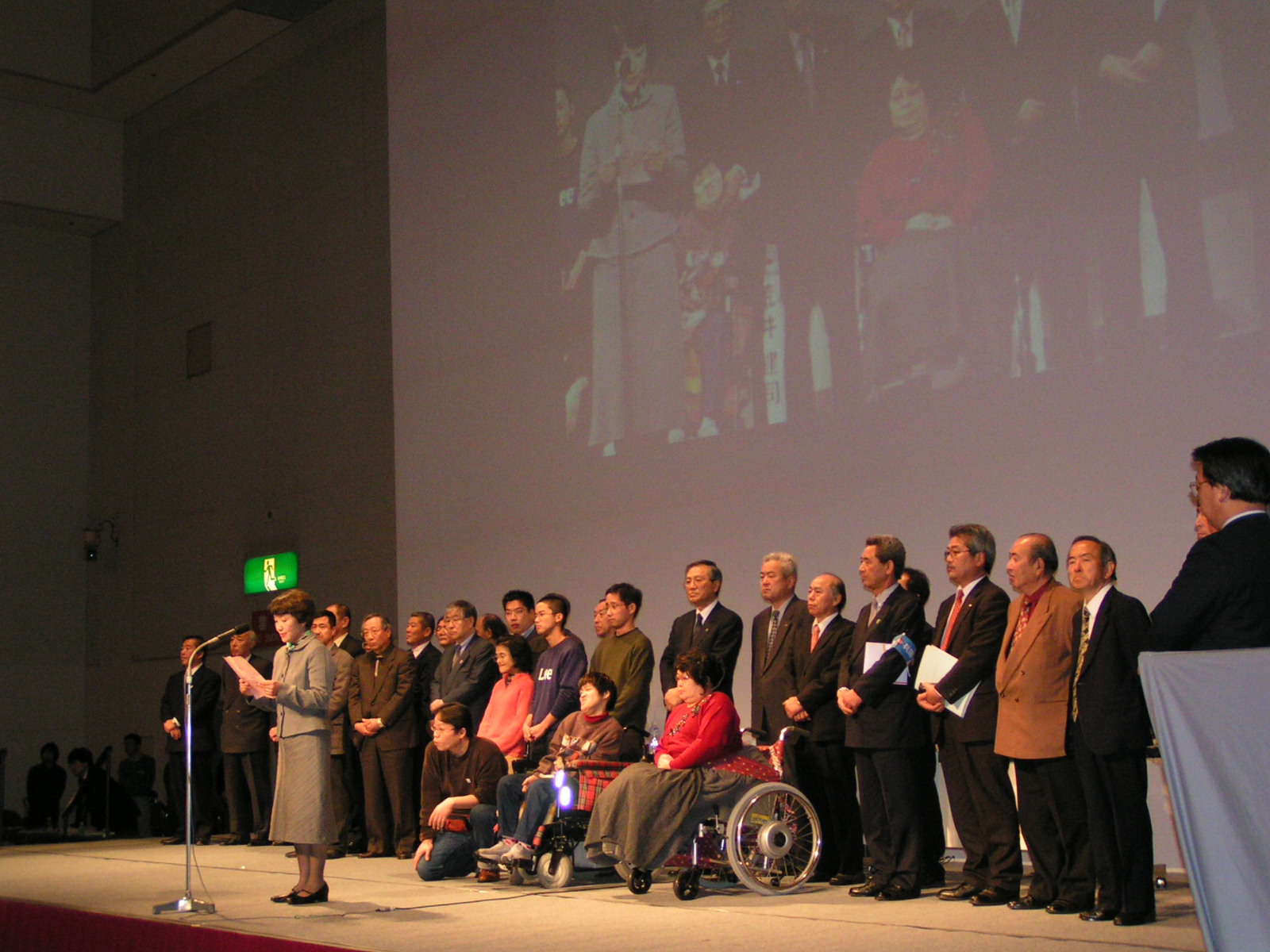 Photo: Fellow NPO and volunteer organizations adopt an appeal together. (January 15, Kobe)
At the opening ceremony all of the participants offered their silent prayers in memory of the innumerous victims of the Great Hanshin-Awaji Earthquake, a major earthquake which occurred off the coast of Sumatra and the resulting tsunami in the Indian Ocean.
President Sasamori praised them saying that he is "proud of the work by a total of 54,000 union members who came from all over the country in order to work as relief volunteers for the Hanshin Earthquake." He also said that he is "proud of the work by those current and retired union members who have continued their volunteer activities everyday for the past ten years at the NPO Kobe West/Mutual Help Network." He then called for a continuation of putting into practice the ideal of "RENGO, reliable and dependable when people are really in trouble." In addition to this, Sasamori also stated that "
public assistance
is on the brink of collapse.
Self-help
is the foundation but it is pushed to its limits. In addition to
self-help
, we should enrich
mutual aid
in the future. Thinking about how we can build upon
mutual aid
is important while we share a sense of community among families, localities and workplaces. Trade unions bear the responsibility of playing the role of a bridge," he stressed.
Meanwhile RENGO, Hyogo Prefecture, ZENROSAI (National Federation of Workers and Consumers Insurance Cooperatives) Group, and the Japanese Consumers Co-operative Union, reported that those four parties launched the "Network for the Promotion of Relief for Natural Disaster Victims." The Network will take over the activities of the "Council for the Promotion of Relief for Natural Disaster Victims," which contributed tremendously toward the raising public awareness to legislate the "Natural Disaster Victims Relief Law" in such ways as collecting 25 million signatures.
RENGO Local of Hyogo President Hojo said in his speech, "in Hyogo Prefecture, the three entities representing local administration, the economic world and labor world worked together as one on rehabilitation and reconstruction, which eventually led to more powerful efforts. I would like us to take this opportunity at this symposium as a good chance to consider such issues as what sorts of measures we should take against disasters."
Comparing the characteristics of volunteers from organizations versus general volunteers, RENGO Local of Hyogo General Secretary Yasutomi, emphasized the effectiveness of those volunteers that RENGO organized. He said that organizational volunteers:
are mobile and able to dispatch en mass. And that they also display continuity.
have the capacity for self-financing and can easily function autonomously.
can utilize those union members' professional skills and expertise.
have a network to draw on and target information at their organizations nationwide.
RENGO Assistant General Secretary Hitoshi Takahashi plainly stated his opinion of the roles that RENGO and RENGO locals should play and called on them to take concrete action.
ZENROSAI KYOKAI (National Association for Workers Welfare and Cooperative Insurance) President Washio emphasized that it is important to create a system of
mutual aid
for activities that assist in the rebuilding of homes for disaster victims and furthermore urged attendees to join the
mutual aid natural disaster plan
.
Hyogo Prefecture Governor Ido reported that Hyogo Prefecture took it upon itself to institutionalize mutual aid insurance in the rebuilding of houses. He said that he expected this "Hyogo model" would soon spread across the nation and that other municipalities would also institutionalize it.
Attendees also listened to Self Defense Forces specific relief actions from former Commanding General Matsushima of Ground Self Defense Force Middle Army, now Advisor to Daikin Industries, Ltd., Tokyo Office, who led relief missions in disaster areas at that time. He spoke from his own experience in sending troops to the affected areas despite various obstacles and examined the importance of coalitions among municipalities, police and fire departments, and other organizations.
At a panel discussion, panelists exchanged opinions on such issues as "what did we do right after the Great Earthquake hit?" "How should RENGO tackle large-scale disasters?" "What sort of measures should we demand of the administration?"
The panelists were: Hyogo Prefecture Great Hanshin-Awaji Earthquake Restoration Headquarters Administrative Division Counselor Fujiwara, ZENROSAI KYOKAI Executive Director Arai, RENGO Local of Hyogo Advisor Kawamoto, RENGO Local of Niigata General Secretary Ebana, RENGO Headquarters Department of Organizational Affairs Executive Director Abe, and RENGO HQ National Movement Division Director Hayashi as a coordinator.
RENGO Local of Hyogo Advisor Kawamoto said, "The key is how fast you can create a self-governing society at shelters run either by volunteers or victims. I expect people from the trade unions to take the lead in doing that. I also would like to request that you demand action from municipal governments in each location in assisting in the rebuilding of houses using Hyogo's activities as a model." General Secretary Ebana at RENGO Local of Niigata told of the lessons derived from the Niigata Chuetsu Earthquake which struck last October, stressing that "within the society of our volunteer center, I think that the role RENGO plays varies with each case. But, I do believe that it is necessary for RENGO Headquarters to be one of the members."
Finally, the attendees, along with people from the NPOs and volunteer organizations, adopted the appeal of: "We hereby declare that as the largest workers' organization, RENGO will utilize its network and manpower to collaborate with enterprises and citizens from all walks of life and promote disaster prevention measures." Then the symposium closed.