Gathering of Part-time/Contract Workers Held in Tokyo
l Realize"Legislation for Equal Treatment" "Expansion of Employees' Pension Application"
02 March 2004
On February 24th, the "Part time/Contract Workers Gathering" was held at the Center for the Advancement of Working Women (CAWW) in Tokyo with the themes of realizing "Legislation for Equal Treatment for Part-time and Other Workers," "Expansion of Employees' Pension Application for Part-time Workers at Pension System Reform."
Attendees listened to proposals by the Democratic Party of Japan (next Cabinet) Minister for Comprehensive Employment Policy Hiroko Mizushima, New Komeito Party Policy Research Council Vice Chairperson Yutaka Fukushima, and Social Democratic Party President Mizuho Fukushima, and exchanged opinions with them. RENGO General Secretary Kusano announced that he wanted to advance activities with all of RENGO's organizational might in order to bring about the realization of "Legislation for Equal Treatment" and "Expansion of Employees' Pension Application."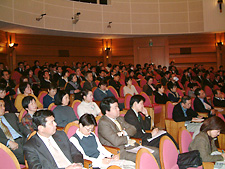 Photo: Approximately 200 part-time/contract workers and trade union field officials participate in the February 24th gathering in Tokyo.
Kusano said that "97% of all the part-time workers are not yet unionized. First, it is important that we build up achievements of what we are doing for part-time workers." And regarding the legislation of equal treatment he displayed his determination by saying "we are lobbying the DPJ to submit a draft during the current Diet session. We want to proceed ahead with our activities using our full might." Along with that, he said that regarding pension system reform, "the government/coalition parties' draft is beneath fundamental reform. We want to seek a withdrawal of the draft for a debate for comprehensive reform in the true sense of the word." Regarding expanding employees' pension application he said, "We want to advance the debate for the future based on the fundamental philosophy of 'solidly establishing worker's rights for pensions, rights to work, and social security rights.'"
During the panel discussion, the following opinions were raised from the floor: "The peak annual salary for part-time workers who have worked 3000 hours is declining. Disparities are widening even more." "Problems surrounding fixed –term employment of part-time workers cannot be separated from equal treatment." "Our agenda is what we should do to make the equal treatment legislation effective." Regarding the expansion of employees' pension application, the following opinions were expressed: "Even though I've worked part-time for twenty four years and been a member of the employees' pension for over thirty years, when I calculated my annual pension (after retiring) the yearly total was only ¥880,000. I was shocked at the gap for tertiary insured people*." "This will probably have some effect on business, but I think they should expand application properly."
*(primary insured include the self-employed; secondary insured include private sector salaried workers and public service employees; tertiary insured people are the spouses of secondary insured.)
Assistant General Secretary Hayashi summarized the gathering by saying that, "in the Basic Law for a Gender-equal Society it states that 'We strive for formation of a society in which men and women are equal partners.' By reason that they chose part-time work, they cannot obtain the equal benefits, cannot shoulder the burden of social responsibility even if they wanted to, and consequently they cannot even receive social security. We must think about how we can improve this situation. Further, receiving social security is also an important element of 'decent work.' From this point of view, it is not acceptable to leave the current situation of unequal treatment in which disparities accelerate unchanged. We must not think of part time labor problems as someone else's problems. I want to work together with you to represent and realize the thoughts of 80% of all non-unionized workers through the passage of equal treatment legislation." So saying, she closed the gathering.