2004 Spring Struggle: Front Running Unions Receive Replies
Press Conference Held
25 March 2004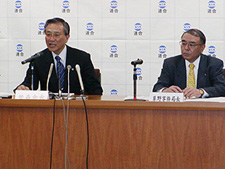 Photo: RENGO praised those resolutions that satisfy their demands. (March 17, RENGO Headquarters)
On
March 17, RENGO held a press conference on the responses that front running unions received from management regarding wages, bonuses and labor agreements for this Spring Struggle.
During the press conference RENGO President Sasamori praised the results saying "at the present time, the answers that were received attained nearly 100% of the goals that RENGO had set." He added that it was not only the major unions that were beginning to receive responses, as expected, but also the small-and-medium-sized unions as well. "Our work to fortify activities for small-and-medium-sized unions really turned out nice results. We want these results to continue to influence the situation after March 22 also." Touching upon results for other issues than wages and bonuses, such as employment for people over 60, support for fostering the next generation, building careers, and the creation of appropriate management of working hours, President Sasamori characterized this situation by saying that "It has become increasingly clear that the Spring Struggle is not only a place for negotiating wages."
Peak negotiation periods for small-and-medium-sized/local unions will be from March 22 to 24. RENGO will work diligently to see that the results from these answers are reflected in the upcoming negotiations.