Enlarged Meeting of Officers in Charge of Policy Matters Held
FY2005 RENGO Priority Policy Demands Draft Discussed
12 May 2004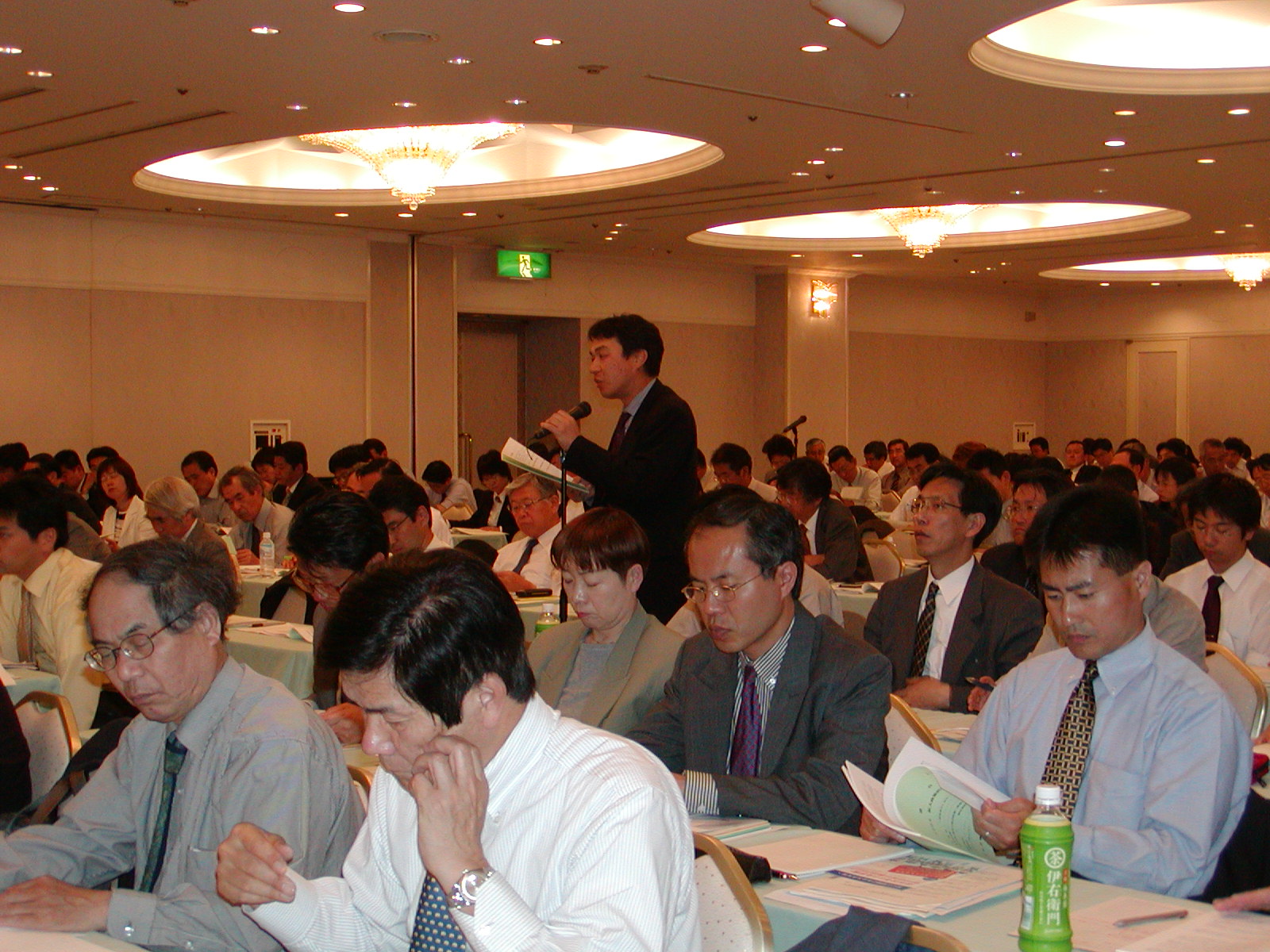 Photo: Attendees remarked on such issues as employment, local economies, long-term care insurance, the tax system, and so forth. (May 7, Ikenohata Bunka Center, Tokyo.)
On May 7, the 2004 expanded meeting of officers in charge of policy matters from affiliated organizations and local RENGO was conducted with 200 officers in attendance. The meeting's discussion focused on the preliminary draft of the "Fiscal Year 2005 RENGO Demands of Priority Policies" which is for a one-year period extending from July 2004 to June 2005. Eleven officers submitted supporting opinions on the three top priory issues and twelve priority policies, all of which were established as policy line. The discussions will be repeated at the Policy Committee, the Central Executive Committee, and then at the 42nd Central Committee on June 1st when a formal decision will be reached.
At the opening of the meeting, RENGO President Sasamori reported on the status of deliberations over the pension system reform bill as well as RENGO's response to it and expressed his resolve by saying that " RENGO lead the way towards opening a path for radical reform and we are prepared to realize with dogged determination that reform at any cost through long and difficult activities in the future."
Further, a panel discussion was conducted under the topic of "local activities and the roles of trade unions" were such activities as local welfare, support for families raising children, workers' welfare, and other issues were of particular interest. Chief Executive of CHUO-ROFUKUKYO (National Association of Workers Welfare) Kitamura raised several issues by presenting "Activities through cooperation of trade unions, business organizations, and workers welfare offices at localities" and each of the following representatives presented reports on concrete activities: Chiba Rofukukyo (Workers Welfare Office at Chiba), RENGO Local of Aichi, RENGO Local of Ishikawa, and the Japan Telecommunications Workers' Union (Currently the All NTT Workers Union of Japan) Kinki-area Social Welfare Corporation. Based on those reports, the panel called for aggressive activities as "we sincerely feel that really big projects can be achieved by RENGO and ROFUKUKYO working together jointly" and instructed members that "movements will grow if there is passion, wisdom, and planning."