Govt./Unions Talks Begin on Public Service System Reform
21 May 2004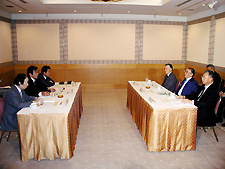 Photo: General Secretary Kusano and others (right, center) make demands of the Minister (left). (May 13, Tokyo)
On May 13, RENGO and KOMU-ROKYO (Japan Council of Public Services Trade Unions: PS-JC) held a discussion meeting with the government on public service system reform. Attending the meeting, held for the first time, were RENGO General Secretary Kusano, KOMU-ROKYO Headquarters for Public Service System Reform Chief Maruyama, and Headquarters Vice Chief Hitomi. Minister of State for Regulatory Reform Kaneko, Minister of Public Management, Home Affairs, Posts and Telecommunications Aso, and Minister of Health, Labour and Welfare Sakaguchi also attended representing the government.
During the opinion exchange, RENGO requested the following to the government: (1) Conduct consultations where transparency is ensured and which are free from the "General Principles for Public Service Reform." (2) Include the establishment of consultations on the agenda for further examination that are in keeping with ILO recommendations. (3) Guarantee the right to organize for prison staff and firefighters. (4) Conduct consultations at working-level.
In response, the government said that they: (1) want to exchange opinions in order to materialize merit-based system and a system for evaluation, (2) think that understanding and cooperation from trade unions is necessary in order to create a public service system that will be trusted by citizens, and they also said that they (3) need a review process so that citizens can make sense of public service system reform not only consultations between labor and management.
As a result of the discussion, it was confirmed that in the future representatives from the working-level on both sides would continue to hold consultations.