6th RENGO Environmental Forum Held
Seeking a 6% Reduction in Greenhouse Gasses
31 May 2004
From May 24th to the 25th the sixth RENGO Environmental Forum was held at the Sun Parea Seto in Seto city, Aichi Prefecture with 150 people in attendance. The theme was on activities to achieve the goal of reducing greenhouse gasses by 6% (based on 1990 greenhouse gas emission figures) according to the Kyoto Protocol. The forum's keynote address was delivered by former Environment Minister Mr. Hiroshi Ooki, now a Representative of the Japan Center for Climate Change Actions, and there were also panel discussions held. Participants mutually acknowledged that trade unions need to proactively proceed with activities that deal with environmental issues working through measures such as the "RENGO Eco Life 21" campaign and so on. Participants visited the site of the 2005 World Exposition in Aichi Japan, listened to lectures on the need for environmental consciousness, and the report on the progress of Nagoya city's activities for a "proclamation of a state of emergency on garbage."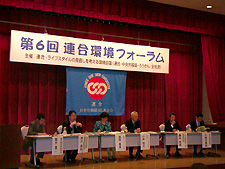 Photo: RENGO and the Environment Council to Rethink Lifestyle organized the forum. (May 24, Sun Parea Seto)
Japan, which ratified the Kyoto Protocol, is supposed to evaluate the status of its progress on greenhouse gas emission reduction for each step including the first phase from 2002 to 2004, the second phase from 2005 to 2007, and the third phase from 2008 to 2012; as well as efforts to implement additional necessary measures that seek to accomplish a 6% reduction in emissions.
At the outset, RENGO Assistant General Secretary Kubota expressed his opinion that "the total amount of greenhouse gas emissions for the year 2001 showed a 5.2% increase over that of 1990. Our current situation is hopeless in light of our goal. I doubt that we will be able to reach our goal if we continue in conventional ways." He continued by calling on the crowd saying "let us honestly discuss what we need to plan for the second phase, and what actions are needed to pass along a beautiful earth to the coming generation."
RENGO Local of Aichi President Horishita delivered a welcome speech, a message from Aichi Prefecture Governor Kanda was read for, and former Environment Minister Ooki, now a representative of JCCCA, delivered the keynote address. Afterwards, a panel discussion was held on how to proceed with activities from the standpoint of administration, NPOs, local organizations, business and trade unions, coordinated by RENGO Department of Economic and Social Policy Executive Director Tatsui. The panelists were as follows; Ministry of the Environment, Global Environment Bureau Climate Change Policy Division Chief Shimizu, KIKO Network (NGO) President Asaoka, Hyogo Environmental Advancement Association Vice Chair Kobayashi, Matsushita Electric Industrial Co., Ltd. Corporate Environmental Affairs Division Director Sonoda, and RENGO Assistant General Secretary Kubota. During the discussion, some remarks and opinions expressed included the following: "with regard to a sense of crisis and understanding of environmental problems, trade union movements might be lagging behind what corporate leaders are thinking," and "we should steadily advance activities, step by step, keeping a watchful eye toward both reaching our numerical targets as well as changing the structure of lifestyles."