Interim Report by the Study Group on Public Service System Reform
Reforms for a People's Administration / a Democratic, Transparent Public Service System
30 June 2004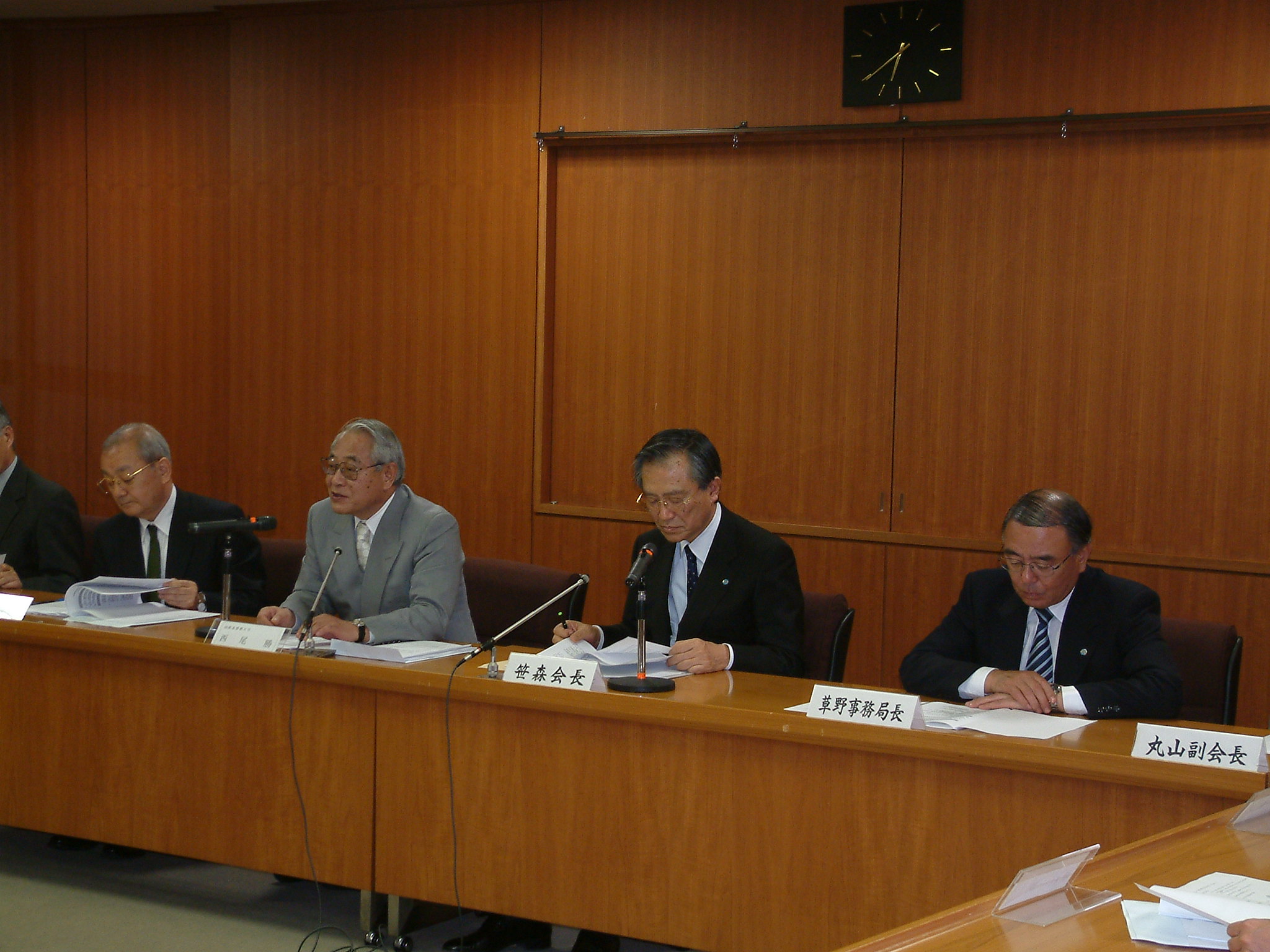 Photo: Chair Nishio (center, right) explains the contents of the report.
On June 23, RENGO received the interim report on a "Proposal for Public Service System Reform" conducted by the Study Group on the Public Service System Reform chaired by International Christian University graduate school Professor Nishio Masaru. This report was compiled from a series of fourteen discussions held by a nine-member study group of specialists working for an "ideal reform plan for the public service system" and which was submitted by RENGO last November.
The report severely criticized such problems facing the current public service system as bureaucrats engaging in
amakudari
(the practice of senior bureaucrats "retiring" into key jobs in semi-governmental corporations or fields within the private sector closely linked to their government roles) and a general collusion of politicians, bureaucrats and business. The report pushes for reforms that would lead to an administration that truly stands for the people as well as for a democratic and transparent public service system. The main points raised in the report included: [1] The abolition of a privileged career system and the introduction of a personnel management system based on one's job performance. [2] The regulation of
amakudari
and the introduction of evaluations conducted by fair and neutral organizations. [3] The guarantee of basic labor rights for public servants on a general level.
At a press conference conducted on the same day, Chairperson Nishio said that "discussion of public service system reform conducted by the government and ruling parties behind closed doors should be discussed anew publicly. It is necessary to carry out fundamental reforms without delay including regulating
amakudari
and to pave the way for the creation of basic labor rights for public servants."
President Sasamori decisively stated that "this report will give a solid backbone to RENGO's activities for public service system reform. From now on, we will fortify our activities so as to reflect this proposal in our discussions with the government and make a concerted effort to establish a public service system that is in line with ILO standards and which can also become a model for other Asian countries."