Action Route: Part II Starts
Theme "Unions will Change, We will Change Society"
23 January 2004
On January 15, RENGO's "Action Route: Part II", which aims for the realization of candid opinion exchanges with officials and union members from 61 affiliated organizations targeting at the revitalization and rejuvenation of the labor movement, received a kick-off by a meeting with DENKI RENGO (Japanese Electrical Electronic and Information Union). RENGO exchanged opinions with union leaders of the DENKI RENGO's Central Struggle Committee on such issues as "establishing a system of support for small-and-medium-sized enterprise unions", "advancing reform of the Spring Struggle", "gaining more power to achieve policies/systems demands", and "fortifying and expanding unionization: an approach to part-time and other non-regular workers". Another meeting with union members of DENKI RENGO affiliates is scheduled for April 8th.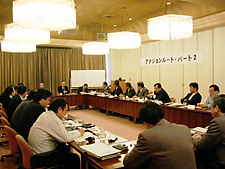 Photo: Participants gave their frank opinions. (January 15, Atami)
"Action Route 47: Part I", implemented from 2001 through 2002 across the nation, provided opportunities for RENGO to sit down and talk with Prefectural governors, heads of cities and villages, representatives of Prefectural administrators such as division heads of industry and commerce, representatives labor administration, and employers organizations. It also created opportunities to exchange opinions among labor union officials and members, part-time and dispatched workers, NPOs, and both the labor and management sides of those organizations not affiliated with RENGO. In addition, it was a good chance to hold rallies and symposiums, street campaigns, and talk with people who left jobs and/or are seeking.