7th Youth Forum Held
Current State of Youth / Role of Trade Unions
30 September 2004
On September 18, RENGO held the 7th Youth Forum at Shufukaikan Plaza F with approximately 120 young union members from across the nation in attendance. The forum included a lecture entitled "The Current State of Young Workers" given by University of Tokyo Institute of Social Science Associate Professor Yuji Genda and a research report by JTUC Research Institute for Advancement of Living Standards (RENGO-RIALS) Researcher Yoichi Chigami on "Survey on the Perceptions of Trade Unions." Youth officials representing the trade unions held discussions with RENGO President Sasamori in the "youth section" of the Action Route II.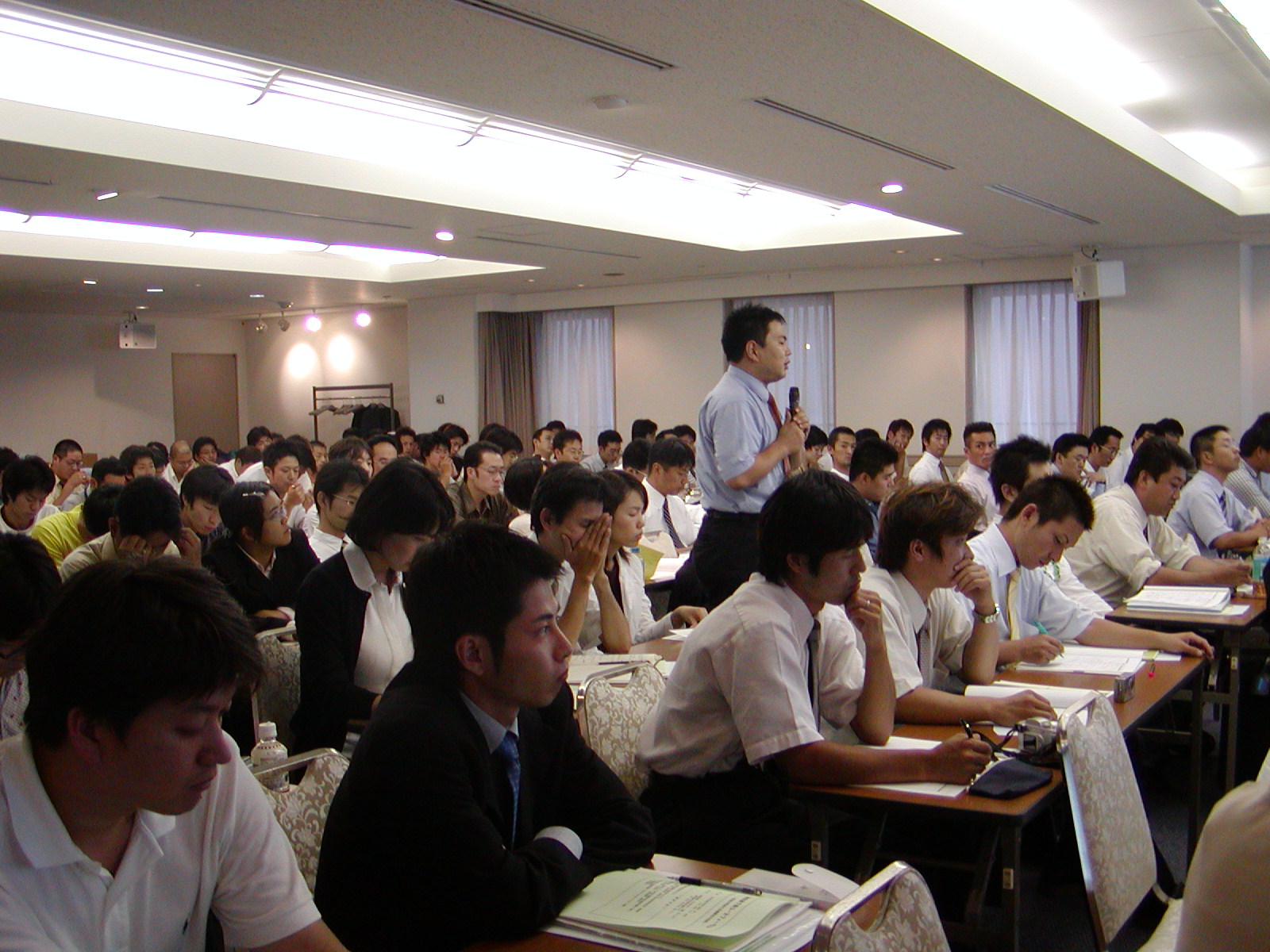 Photo: The Forum became a chance for young people to think about what they can do within the RENGO movement. (September 18, Shufukaikan)
In his opening speech on behalf of organizers, Assistant General Secretary Takahashi stated that "recently it has become quite commonplace to hear words such as
compliance
and
corporate social responsibility
. But what sorts of action we might take when a specific issue arises is a challenge that each one of us is confronted with." He addressed participants by saying that "not only businesses but also each and every union member is now being asked to speak out against unfairness for justice and take action against that." Afterwards, Associate Professor Genda's lecture "The Current State of Young Workers" touched on the situation of young people without jobs who are often referred to as NEET (Not in Employment, Education or Training). He emphasized that "it will be good to see an increase in leaders who can talk briefly about what sort of work they have been engaged in. Those are the only kind of people who can encourage the young." Genda ended his lecture by expressing his hope for the future of trade unions and NPOs. Continuing, RENGO-RIALS researcher Chigami reported on his findings from the "Survey on the Perceptions of Trade Unions" under the theme of what are truly meaningful union activities for the young.
Meanwhile at the "Youth section" of RENGO's Action Route II, RENGO President Sasamori told youth representatives that the RENGO Evaluation Committee pointed out that trade unions have become a privileged entity. He asked "what can we do for the people who are working earnestly? We must change our previous patterns of behavior as well as our ways of thinking." He told them that "putting away false fronts and always providing answers on our own is the role of trade unions and what will truly change trade unions into reliable, dependable entities is the power of young people."
After that, young union member representatives spoke based on their own experiences about some of the issues and problems they face in their youth activities, possible resolutions to those problems, and future issues. President Sasamori responded by saying "sometimes it takes the sensitivity of young people in our existing organizations to wake us up." In a voice filled with hope, he called on the participants saying "Young people! Take the offensive."
Finally, Chair Kaneko of the RENGO Youth Activities Promotion Project presiding over the forum closed the proceedings by urging attendees to remember that "there are hints for the youth activities sprinkled everywhere. We look forward to your active participation and opinions in the future as well."