4th World Social Forum Gathers 100,000 Participants
100,000 from Around the World Gather at Mumbai, India
23 January 2004
The 4th World Social Forum was held in Mumbai, India from January 16th to the 21st. Of the approximately 100,000 participants from across the globe attending the first WSF ever to be held in Asia Pacific region, nine members were from RENGO.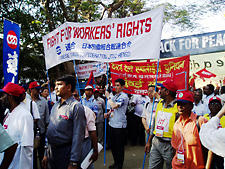 Photo: RENGO delegates march in the Global Union Demonstration.
RENGO organized a panel discussion at the forum with the theme of "Overcoming the Negative Impact of Globalization: Maintaining Decent Work and Core Labour Standards to Improve the Quality of Workers Life" and a keynote address given by International Confederation of Free Trade Unions (ICFTU) General Secretary Guy Ryder. Panelists included JTUC Research Institute for Advancement of Living Standard (JTUC-RIALS) Executive Chief Researcher Hidekazu Narikawa, JR RENGO Director for Education and PR Yasushi Iwanaga, and four of their colleagues from Asia Pacific region and with RENGO Assistant General Secretary Yasuo Kubota moderating, a lively discussion ensued.
While a total of 6,000 union members from ICFTU and other unions around the world gathered together to conduct a Global Unions March in a demonstration of solidarity, an open debate was held on the theme of "Mobilizing Solidarity."
For JR RENGO Yasushi Iwanaga's interview by the ICFTU, please see the following site:
www.global-unions.org