44th Central Committee Meeting Held
2005 Spring Struggle Policy Endorsed
03 December 2004
On November 25, RENGO held its 44th Central Committee Meeting at the Hotel Langwood in Tokyo where the "2005 Spring Struggle Policy" was endorsed with 300 participants in attendance. RENGO President Sasamori emphasized to the audience that with regards to the 2005 Spring Struggle "we want unions to actively call for across-the-board wage increases where ever circumstances permit this to be done." Prior to the meeting's proceedings, attendees heard speeches from TANRO's (Japan Coal Miners' Union) President Chiba, which ended its 54 year long history of participating in the labor movement, as well as from General Secretary Matsubara from the Japan Professional Baseball Players Association.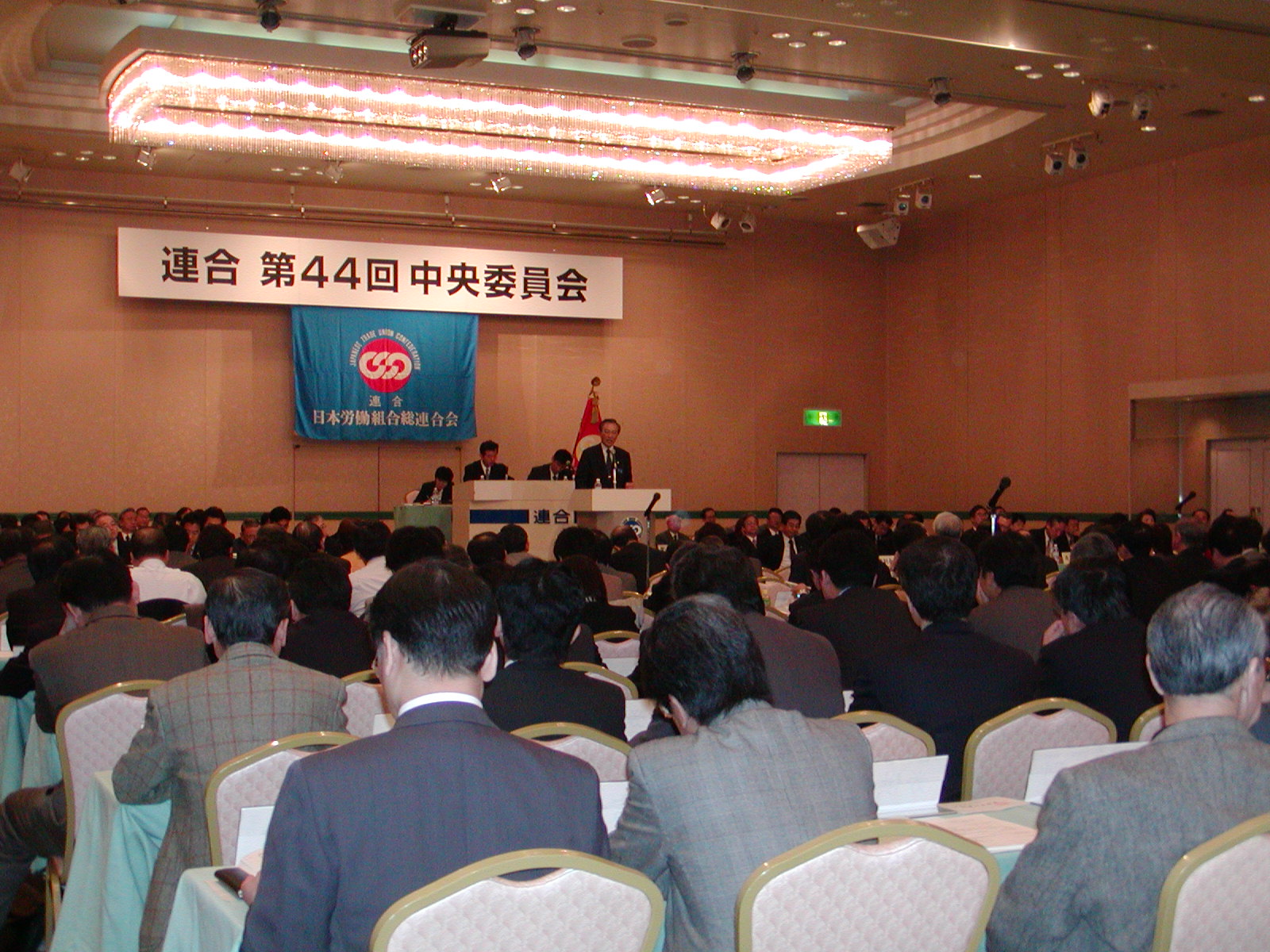 Photo: The 2005 Spring Struggle Policy is endorsed at the meeting. (November 25, Hotel Langwood)
Speaking on the upcoming 2005 Spring Struggle President Sasamori said that "we should carry out negotiations while not letting the Struggle fall into being a mere façade; remember that sovereignty resides with the workers, and base (negotiations) on the principle that workplaces come first. If we can have thorough negotiations, then next year will be a year of growth leaving behind last year as the low point." Regarding demands for wages, he said "we will not conduct unified demands for across-the-board wage increases, but even so, for those trade unions where conditions permit such action, we encourage that they actively work to obtain them." He added that "from now on in RENGO-wide movements we must hold discussions as soon as possible in order to create unified demands for across-the-board wage increases."
Sasamori stressed that a unified demand for small and medium-sized as well as local trade unions is an activity which highlights the setting and fortification of numerical goals that top last year. He also emphasized the importance of information disclosure and asked participants to send information on those unions and localities to RENGO headquarters. Speaking with great determination, Sasamori said we must block problems such as the downsizing and/or elimination of fixed-rate temporary tax cuts and various tax deductions "at any cost employing every available means." He also thanked various campaigns and volunteer workers for their efforts on several recent natural disasters and asked for continuing cooperation and support.
Before the official proceedings began, attendees listened to an address by Secretary General Matsubara of Japan Professional Baseball Players Association. Matsubara explained the progress of JPBPA's activities regarding the realignment of Japanese professional baseball and expressed his appreciation for their support.
After an activity report by RENGO General Secretary Kusano, came a speech by President Chiba of TANRO, which withdrew from RENGO ending its 54-year history of union activities. "We are proud that the many workers of TANRO have supported the Japanese economy as members of the coal industry, and we have been feverishly involved in creating society where workers can live without worry. We will continue to overcome difficult obstacles together with all of our fellow workers."
Some of the many opinions presented on the 2005 Spring Struggle agenda item included: "we want you to forcibly conduct a blocking of the downsizing and/or elimination of fixed-rate temporary tax cuts." "Media reports of
no unified demands for across-the-board wage increases
may threaten ongoing negotiations. We want Headquarters to be cautious when making announcements." "We want RENGO to provide leadership so that every trade union, not only small to mid-sized unions, will work to correct differentials." "The Part-Time Workers Law that the Democratic Party of Japan submitted, appears to be dead in the water. We want RENGO Headquarters to make it members' thoughts known to the Party." RENGO General Secretary Kusano responded by saying "we will face changes in the situation in a positive manner, dealing with any problems proactively. We want union members to work for wage increases so far as it is possible."
Regarding other agenda matters, there was a report from the control committee on the punishment of former RENGO Vice President Kato, who was arrested by the Tokyo District Public Prosecutors Office on charges of allegedly receiving bribes in the CHU I KYO (Central Social Insurance Medical Council) incident. The meeting adopted punishment based on a report by the control committee which "agreed that Kato should be dismissed' according to Article 23 in the RENGO bylaws."